Rosencrantz And Guildenstern Are Dead
By Tom Stoppard. The Stirling Players (SA). Stirling Community Theatre. 23 February - 10 March, 2018
Tom Stoppard's first major play and now a modern 'classic' of contemporary theatre Rosencrantz and Guildenstern are Dead was first performed at the Edinburgh Fringe Festival in 1966. Coincidentally, Adelaide's Stirling Players' excellent production of the play, while not part of Adelaide Fringe, runs in parallel with much of this year's festival.
The term that is often used to describe this kind of play is 'absurdist'. This was a word first used by English critic Martin Esslin to describe contemporary work emanating from France, exemplified by Beckett and Ionesco. It is, however, a term that the French despise as they consider it inaccurate. The situations, characters, and subject matters are not 'absurd', but all too real and human.
Such is the case with Rosenscrantz and Guildenstern are Dead. This is a theatrical play about death, and particularly the fear of death, a subject that is extremely human and not 'absurd'. We identify with the characters because of this fear and the sense of being trapped within a recognisable world, which includes the theatre itself.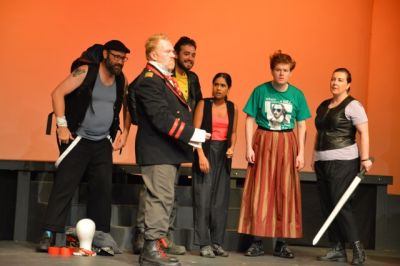 Rosencrantz and Guildenstern are characters in Shakespeare's Hamlet. They exemplify treacherous and false friendship and are fated to die. We know this, because it is specifically stated at the end of Shakespeare's play. Stoppard's brilliant play inverts the narrative of Hamlet, dramatising what happens to Rosencrantz and Guildenstern off-stage. They are presented as loveable and witty clowns who deal with their fear through intricate word games. They are completely baffled by what is happening and even more so when the action of Hamlet intrudes into their own theatrical space. This theatrical space, however, is a trap from which they cannot escape. Other invaders, and even more important than that, the royals of Elsinore are The Player and his ensemble of actors. As this suggests, the play is as much about the theatre and acting as Shakespeare's Hamlet.
The Stirling Players' production, directed by Hayley Horton, is terrific.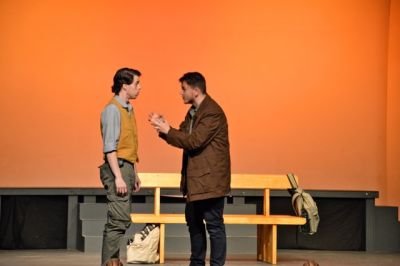 One of the biggest challenges of this dazzling play is Stoppard's language. In this production the text is consistently crystal clear. This is a magnificent achievement considering the degree of difficulty.
It is also beautifully performed, particularly by Alex Antoniou (Guildenstern), Mark Healey (Rosencrantz) and Tim Williams (The Player). These characters dominate the stage and action; and in the case of Mr Antoniou and Mr Healey they never leave it for the roughly 2.5hrs length of the play.
The actors in Stirling Players' production completely conquer the complexities inherent in this play and make it sing with dazzling brilliance.
You may not know Shakespeare's Hamlet, but that doesn't really matter, as this is a wonderful piece of theatre, full of laughter and brilliant insight, clearly articulating contemporary fears and concerns about identity, existence and death.
Tony Knight