Ruby Slipper Chronicles
Devised and performed by Aurelie Roque. Sideshow Project. The Basement. Arts Centre Gold Coast. 3rd and 4th November, 2017. Sideshow until 10th December.
Regional Arts Centres have to be innovative to stay alive, and the Gold Coast is no exception.
As well as a new entertainment precinct which will add an open air concert shell like the Myer Music Bowl, plus a theatre, two cinemas, a showroom, various performance spaces and an Arts Café, ACGC is making the bold move to introduce Cabaret in its under-utilised venue, The Basement, which is the perfect set-up for intimate cabaret, with a bar and tapas menu, and the ability to stay open late. The name of this new initiative is 'Sideshow' – very appropriate since the definition describes something small and often dazzling which distracts from the main event – and there are plenty of those in the main body of the centre.
If The Basement is the perfect venue, the Ruby Slippers Chronicles is the perfect show for it, a dream fit just like those Ruby Slippers. And if you think the show is built around the whole premise of The Wizard of Oz, complete with Toto…in this case our star's hapless husband… then you're absolutely right.
With a belting voice which also has a lyrical soprano top register with exemplary diction, strong interpretive skills with lyrics, and a fearless, yet still vulnerable, on stage persona, Aurelie Roque is the ideal cabaret performer. In one of those cases where truth is stranger than fiction, she did indeed leave Kansas in a Tornado and landed in The Land of Oz (Brisbane to be specific) - she encounters all the characters we know and love, though many are part of her psyche, and after making those characters in her mind whole she tells us, "Then I realised, the wicked witch is me - I am my own wicked witch." It's a stunning moment. I loved it.
However, as a critic rather than a reviewer, I have to confess that while I am now a fan of Miss Roque and her performing skills, I think her material needs more work. That's okay - the show is still in development and I'm not sure the artist herself is really aware of just how good it could be. It's inevitable that a 30-ish performer will pick songs contemporary to her, and when the songs are as well known as Katy Perry's "Roar", it's a perfect meld. But she's limiting the demographic of her audience by not casting the musical net wider. The proof is that her segue from "True Colours" into "Over the Rainbow" (with a lovely arrangement by Luke Volker) was met with cheers. That's because EVERYONE, regardless of age, knows and loves those songs. The dialogue between numbers is often poignant and endearing (and brave, considering that Aurelie is exploring herself), especially the story of her Grandmother's gift – but those parts exploring The Wizard of Oz characters need more development in storytelling terms. It's an easy fix - work with a writer ( Rae -call "Mom") who will add dynamics to the dialogue without damaging the feeling of spontaneity.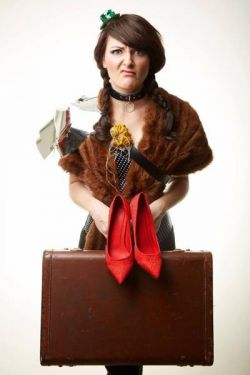 Aurelie has a great asset in the amazing Luke Volker - a dream accompanist for any vocalist, an innovative arranger, and not too shabby with the back-up vocals either. It would add an extra dimension if the two (if they plan to work together) could create a real relationship through banter. This is too short a season - you only have Saturday Night to see Ruby Slipper Chronicles this time round, but hurry down if you can. You'll be watching a future star at the beginning of her journey on the Yellow Brick Road. Believe me, it's well worth the journey.
Sideshow itself will continue on until mid-December (and, hopefully, be back next year) which is great for those who won't get to go to International Cabaret Festivals in the Southern States. Next week is the amazing The 27 Club – a show which debuted at the acclaimed Adelaide Cabaret Festival and explores the lives and music of those who died at 27, Amy Winehouse, Kurt Cobain, Jimi Hendrix, Jim Morrison and Janis Joplin. It's an astonishing group, and with seasoned music theatre performers giving their take on those performers, it promises to sell out quickly.
On the 17th and 18th of November 'Sideshow' brings the legendary Carlotta to the basement, followed on the 24th and 25th by the smash hit from last year's 'Glitter Festival' – Up Late, a heady and eclectic mix of music, burlesque, DJ's live performance and comedy. You never know what (or who) you might discover when you stay Up Late!
December swans in with the amazing Musical Theatre star Tim Maddren – whom your kids will know from TV as one of the Fabulous Hi-5 – bringing his show Me and My Shadow – a tribute to the great saloon singers, Frank Sinatra, Bobby Darin and Sammy Davis Junior - to the Basement on 1st and 2nd December. 'Sideshow' really has something for everyone.
And the season finishes with the multi award winning incomparable and outrageous queen of Cabaret Yana Alannah. This is a must see show and only on the 8th and 9th of December - consider it an early Christmas present. All in all the Gold Coast, and especially the Arts Centre, is a pretty good place to be for entertainment.
Coral Drouyn