Rumpelstiltskin
Windmill Theatre Co and State Theatre Company of SA. World Premiere. Dunstan Theatre, Adelaide Festival Centre. October 11-30, 2016.
They say there's nothing more delightful in theatre than an old-fashioned fairytale brought to life, yet last night I experienced the World Premiere of Rumpelstiltskin and discovered there's something even more wonderful - a truly modern fairytale, graced by the enhancements that exquisite use of technology can provide.
Windmill Theatre Co and State Theatre SA's Rumpelstiltskin is perfect. It's enchanting and absorbing for all ages; a rollicking, sometimes mysterious story filled with wonderful characters, love and angst, a car chase and even a high-flying baby.
This version of the old Rumpelstiltskin tale made famous by the Brothers Grimm is quite different from the original, in which imp-like creature Rumpelstiltskin weaves straw into gold. However, the storyline still contains the 'give me what you most cherish in return for my creating wealth for you' component.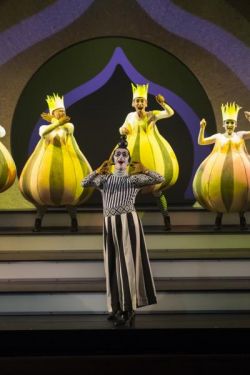 Director Rosemary Myers co-wrote the contemporary story for the production, together with Julianne O'Brien. They have included classic elements while highlighting today's often selfish obsession with prestige, must-have things, money and getting ahead at all costs. Just how such obsessions can change a person for the worse comes across loud and clear through the character of Harriet, as does, through the character of Rumpelstiltskin, the way love can positively influence those who are lonely and isolated.
Paul Capsis produces a towering, funny and sometimes poignant performance as Rumpelstiltskin, a creature that can connect to humans only by magically influencing them. Capsis embodies the isolation of one cut off from society by his obvious difference to all around him, yet expertly gives the performance much in the way of light and shade and comic physicality to ensure the 'imp' in Rumpelstiltskin always shines through.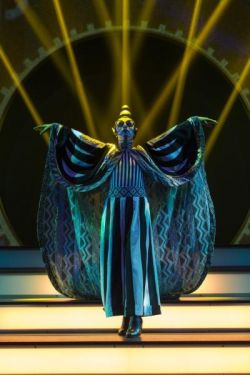 As Harriet, Ashton Malcolm beautifully develops the transition of her character from vulnerable young girl to a woman impacted by the negative influences of wealth and status. When she loses what she really values Harriet must discover what truly matters in life and Malcolm portrays the transition superbly, with gorgeous comic touches. A fantastic performance.
Alirio Zavarce is hugely funny as Rat and complements his delightfully comic performance with a fine display of his musical talent. Rat is a big favourite with the entranced youngsters in the audience. Michaela Burger is a gorgeous pocket rocket in her role as Tootie and although at times I had difficulty understanding some of the lyrics in the show's songs, this was never the case with Burger and her beautiful singing voice. Elena Carapetis is very fine in her portrayal of Crow. Matt Crook is terrific as Malcolm, giving the character an endearing cheerful vulnerability. Ezra Juanta as the Surprise Character is hilarious. Youngsters love him and his 'whoopsies'…but he's a favourite for the grownups too!
It was great to see several actors, including Alirio Zavarce, Michaela Burger and Matt Crook, seamlessly slip from the stage into the orchestra pit to play instruments. The entry of Ashton Malcolm into the audience at the beginning of the second act, while 'helicopter searchlights' sweep back and forth adds urgency to the search Harriet has embarked upon and breaks the fourth wall brilliantly.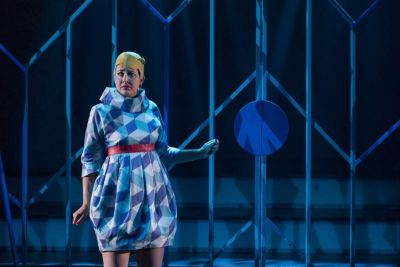 This production relies on its technical aspects more than most and all elements are supremely well-achieved. Amazing light-filled illusions, magical animation across the towering arches of the set, magnificent lighting, sound, music and costumes work in harmony with the actors to create a truly memorable experience for young and old. The colours are stunning, reminding me of those in last year's Adelaide Festival production of 1927's partly animated production, Golem.
With its spectacular and highly imaginative use of modern lighting and animation this world-standard production ensures the enduring tale of Rumpelstiltskin will never be the same again. An absolute must-see.
Lesley Reed
Photogrpaher: Shane Reid