Running with Emus
By Merrilee Moss. La Mama Courthouse. March 2020
The beautiful dulcet tones and clarity of Julie Nihill's voice and the sincerity of her stage presence, as the aging Patricia Reilly, instantaneously connect with the audience to engage us with the themes of this absorbing family and social history.
It is mostly set at the back of Patricia's country cottage where she has bunked up in her sleep-out. This is perhaps due to the house being over full of memories and the hoarding of a lifetime.
Patricia has a deep love of birds that is expressed almost as an ardent longing to fly by Ms. Nihill.
Patricia is disrupted by the sudden arrival of her granddaughter Krystal, who has decided to move in with her grandmother. She has rolled into town with a view to shaking up the small conservative community to embrace refugees as new residents.
Nihill's rich vocal tones are, at times, delightfully contrasted with Elizabeth Sly's more strident and youthful vocal tones as they argue and haggle with each other.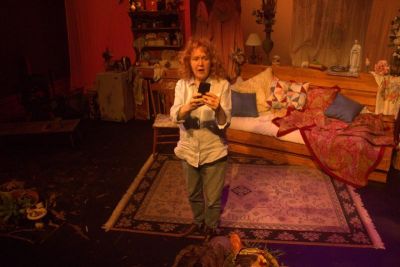 Kim Durban has masterfully directed her cast to work in a comfortable measured tempo that best serves Merilee Moss's poetic text. She imbues the work with clarity and nourishes its musicality.
Kevin Dee plays a somewhat self-serving and bigoted Mayor and a bloke called Sparra. He does so with lovely relaxed, appealing energy. Sam Baxter brings us Raffale, a sensitive and mysterious Italian immigrant whose mysterious presence makes ultimate sense. And Gregory J Fryer adds a rich dimension with the character Pie.
In the end everything seems to be whittled away and refined down to a spiritual connection between generations of Patricia's family.
One can see why this work has been chosen as a VCE text as it touches on a number of topical and pertinent issues to do with our past, present and hopes for a harmonious future.
Very absorbing.
Sadly, the last few shows have been cancelled.
Suzanne Sandow
Photographer:Gregory J Fryer
Credits
Directed by Kim Durban
Set and Costume by Adam (Gus) Powers
Lighting Design by Jacob Shears
Stage Manager Adam (Gus) Powers
Performed by Julie Nihill, Sam Baxter, Kevin Dee, Gregory J Fryer and Elizabeth Sly