Rust and Bone
By Caleb Lewis. Griffin Independent and Stories Like These. SBW Stables Theatre (NSW). January 12 – February 2, 2013.
Peter Gahan and Luke Rogers explain that Stories Like These is "dedicated to creating imaginative, challenging and compelling theatre with a commitment to Australian artists and voices". Rust and Bone is all of the above. It is adapted by celebrated Australian playwright Caleb Lewis from the writing of Craig Davidson. It is directed by young South Australian theatre practitioner, Corey McMahon, and demands challenging performances from its three actors, Wade Briggs, Renato Musolino and Sam Smith.
Michael Hankin's set is compelling in its simplicity. A stark, white, sunken square, with moulded edges, it becomes a pool, a boxing ring, a dog fight arena. Teegan Lee's eeriie white light makes it appear as marble, seeming to shimmer light from below as well as above. The yellow spots in the closing scene are a clever contrast before the carefully timed ending.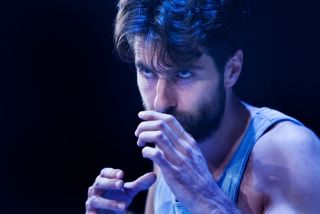 The very large opening night audience, squeezed into the intimate Stables space, was ready to be supportive, and the writing, direction acting and effects didn't disappoint. The stories themselves could by no means be described as entertaining. They are as stark and as sunken as the stage itself. Though Lewis manages to temper them with humour (which McMahon emphasises with tight direction of pace and tempo), he still sustains what he describes as Davidson's "dark, brooding and often violent exploration of men at their best and worst".
The characters are flawed, wounded by events that send them staggering into their futures. Ben (Wade Briggs) has lost a leg in a horrifying incident. He is angry, resentful, ashamed yet still a little resilient. James (Renato Musolino), has pushed his dog into a senseless, unwinnable fight. He is riddled with guilt, as is Eddie (Sam Smith), a boxer haunted by the image of a near drowned toddler existing on life support.
Each of these actors projects the deep wounds of his character, yet tells his story without taking the audience too far into despair. Much of this is due to Lewis's clever writing and quick switches from one story to another, never losing the thread, but not dwelling on pain for too long. This in itself means the actors spend minutes in still contemplation, or move out of character for brief moments to support each other's stories. Smith, for instance, becomes an amusing mother to Ben; Musolino, a tight-mouthed trainer to Eddie; Briggs, a frustrated wife to James. These changes are often momentary, but the characters they create are vivid.
Pace, timing and focus are essential in a piece of drama such as this. Otherwise the audience could be lost in the desperation of the characters. That this doesn't happen, even so early in the run, indicates a strong, carefully considered vision, research and understanding of the script and the characters, intricate and compassionate direction and the establishment of a strong, professional bond across the production.
This play is hard work for the actors and the audience, but it is compelling in the dark beauty of its writing and the depths of emotion to which its actors take their characters.
Carol Wimmer
Images (from top): Renato Musolino and Wade Briggs; Sam Smith & Sam Smith, Wade Briggs and Renato Musolino. Photographer: Bob Seary.