Sailing South
Written by Judith Prior. Directed by Kath Kunde. Presented by Mates Theatre Genesis. The Redland Museum, 25 January – 7 February, 2021
Mates Theatre Genesis is back with another of their annual Australia Day plays, which have been performed at The Redland Museum for over a decade. This year's offering is Sailing South, a delightfully tongue-in-cheek tale of an inexperienced captain and a crew of prisoners bound for Botany Bay in the 1850s.
The museum makes for an ideal backdrop for a play that takes us back in time to the Victorian era. Director Kath Kunde cleverly uses this to her advantage, the first act of the play that's set in an English courthouse is staged in the museum itself. The audience is then moved to the theatre at the back of the museum for the remainder of the play, which takes place aboard the good ship Venus.
Sailing South has some fun moments of audience interaction throughout, including two singalongs to Botany Bay. It's easy to feel the sense of community and fun the cast and crew bring to the show. The passionate amateurs are clearly having a ball with their depictions of petty criminals and landed gentry on their way to an uncertain new life in Australia. Stand out performers are Roy Nunn as Toby, Darsha Hockings as Polly, Barbara Wyatt as Lavinia and Stuart Fisher as Eustace.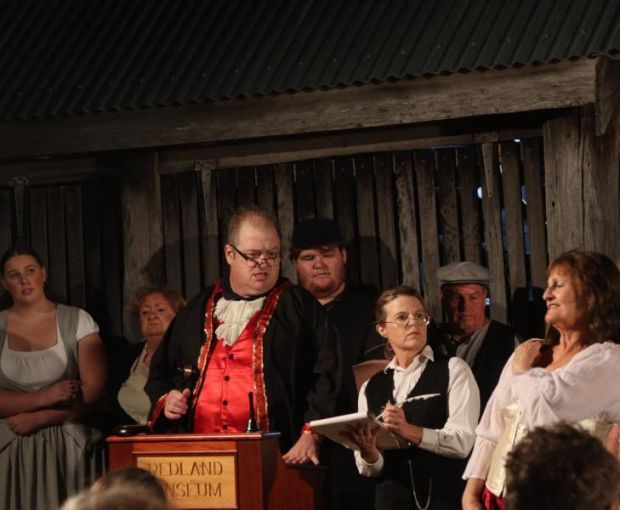 Judith Prior's script is light-hearted fun, packed with puns and giving the cast plenty of opportunities to get a laugh from the audience. There are also some solid visual gags alongside the verbal humour. Audiences shouldn't expect historical accuracy with the text either, as a lot of modern language and references are included for comical effect.
Costuming by Donna Preston is effectively evocative of the era while also providing a cohesive look. The comically oversized captain's hat for Eustace is a clever addition. Lee-Ann Smith's set design for the ship is successful at setting the scene while giving the performers plenty of different areas in which to play.
Sailing South is light entertainment with a true Aussie flavour that can be enjoyed by audiences young and old.
Kitty Goodall
Photographer: Paul Ledington