Salome
By Oscar Wilde. TAP Gallery, Darlinghurst (NSW). January 28 – February 3, 2013.
"Courage, mon brave!" was my first response to a production of Salome. The biblical language, the difficult phrasing, a plethora of 'extras' (soldiers, pages) not to mention a decapitated John the Baptist – all would tend to deter one from a production of this very un-Wilde-ish play.
However, Andrew O'Connell has brought a very compact production to the TAP Gallery space. Two narrators (Morgan Duncan and Gerard Holland), play all of the small parts and though they are on stage for the full 50 minutes of the play, their physical focus and concentration on the action do not falter, nor does their fear and foreboding that "something terrible will happen".
Frances Attard as the seductive Salome finds the nuances of the character suggested in Wilde's lines – and carefully choreographed movement and reactions emphasise the character's power to attract and manipulate. Attard's dark, expressive eyes add to the underlying deviousness of the character, especially where the proximity of the audience allows such close observation and engagement.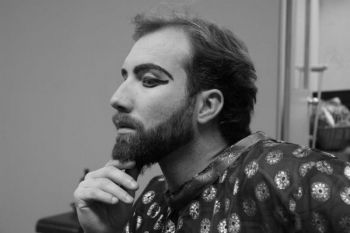 Director Andrew O'Connell himself plays Herod - proud and demanding, yet easily beguiled by Salome. O'Connell finds the strengths and weaknesses of the character in vocal variation and physical control. His long monologue as he offers the wealths of his kingdom to Salome is tightly paced yet carefully articulated. Not easy, when so many words and phrases are repeated!
Vivian Tselios plays Herodias, wife of Herod and former wife of his brother, and thus the object of John the Baptist's ire and disgust. Tselios' depiction of the character seems a little too controlled and restrained for this production where the tension built by the other characters is so strong
John the Baptist, prophet of doom, is played by Jareth Norman. Ghostly pale, dressed in a white toga, with Tim Minchin eyes, Norman fixes the audience in an all-seeing stare as he rebuffs Salome's advances and intones his sinister accusations and predictions. His character is strong – and would be even more effective in a space where the audience is not so close to the action and could suspend disbelief a little more comfortably.
The beheading of this character and Salome's eventual realisation of her obsession and its repercussions have been cleverly contrived and work quite effectively.
O'Connell is to be congratulated on his vision and very thoughtful direction of this difficult play. It deserves a longer run and a larger audience (there were just 8 of us!) and would transfer well to a venue that is less restrictive and more comfortable for both the performers and their audiences.
Carol Wimmer