Salome
By Richard Strauss. Victorian Opera. Conductor: Richard Mills. Director: Cameron Menzies. Palais Theatre. Feb 22 – 27, 2020.
Salome was a musical triumph for Victorian Opera. Held at the Palais Theatre to accommodate the large orchestra, it was the orchestra that dominated, with thundering climaxes and spine-chilling power, well crafted by Richard Mills.
The title role is one of the most difficult in the soprano repertoire, and Lithuanian soprano Vida Miknevičiūtė was everything one would wish for. Her voice was burnished steel and showed no signs of tiring in the extended finale. While the choreography for the Dance of the Seven Veils perhaps lacked the eroticism one expected, with no exposed flesh to drive Herod wild, she made up for this in the finale, with blood from the severed head of Jochanaan dripping on her dress as she kissed it.
The role of Jochanaan (John the Baptist) demands an enormous voice which must thunder from backstage as well as on stage, and in international Australian bass, Daniel Sumegi, VO had one of the few who could do this justice.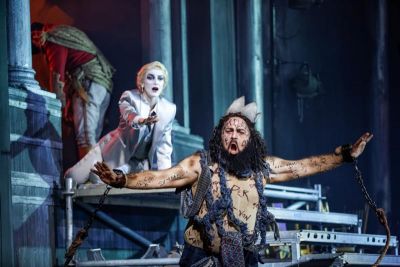 Ian Storey's ringing tenor was ideal for the role of Herod, and he convincingly portrayed the torment of the king who had promised to give Salome anything she wanted, but then was torn at having to order the death of Jochanaan. Unfortunately Liane Keegan's voice was too beautiful for the evil Herodias and her costume made her more of a caricature than the dangerous woman she was.
James Egglestone was an outstanding Narraboth in a strong cast of extras. The modern dress was at odds with the historical subject, but the lighting was effective.
But it was the music that people came to hear, and they would have gone away well satisfied.
Graham Ford
Photographer: Craig Fuller