Sasha Regan's The Pirates of Penzance
By WS Gilbert and Arthur Sullivan. Sydney Theatre Company presents a Regan De Winter Production. Director: Sasha Regan. Sydney Theatre. November 10 – 24, 2012.
Pirates is a show normally dominated by boys. There is the swashbuckling Pirate King, made famous in recent times by Anthony Warlow and Jon English, the verbal virtuosity of the Major General and even the leading tenor Frederick has jokes to add to his sweet arias. Girls are sweet but play second fiddle.
In Sasha Regan's gorgeous production everything is turned on its head. Starting with Joseph Houston as Ruth. The jokes about 'her' pretending to be attractive to the innocent Frederic had extra resonance. His rich Scottish brogue and dancing were a delight to listen to and watch.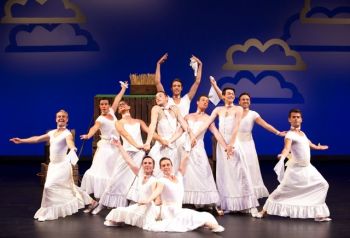 We waited with breathless anticipation for the maidens to arrive on stage. They were stunning. The expressions, the movements, the poise added an extra layer of humour to an operetta I have seen so many times that I've lost count but became fresh again.
Alan Richardson as Mabel used his falsetto voice with power and grace. Reaching all but the very top notes with resonance. The only slight drawback was that he was not as pretty as Matthew Gent as Frederic and perhaps one kiss would have been sufficient instead of three.
The show-stopping moment was 'Hail Poetry', when all the voices were together. It was smoking hot. One of the reasons is that the accompzniment was provided by one pianist – Michael England. As brilliant as he was it sounded a little thin at times, but this a capella moment allowed the cast to shine on a level playing field with any other ensemble.
The set was also minimalist. It didn't matter as the joyous singing, acting and choreography had us entranced.
David Spicer
Stage Whispers TV Exclusive Video.
**
Now a quick message for the STC Artistic Directors Mr Andrew Upton and the soon to retire Ms Cate Blanchett.
Can we see more musicals please?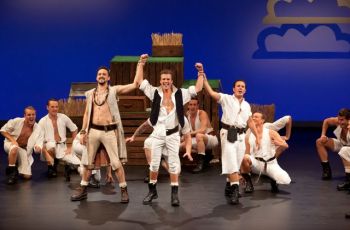 Apart from Spring Awakening – Pirates – imported and written in the 1870's - is only music theatre piece we've seen of late.
The MTC by contrast has produced The Drowsy Chaperone and Next to Normal in recent years.
The ball is in your court Mr Upton.
David Spicer
Images: Neal Moors (Major General) and cast in Sasha Regan's The Pirates of Penzance; Cast members in Sasha Regan's The Pirates of Penzance & Nic Gibney, Matthew Gent, Michael Burgen and cast in Sasha Regan's The Pirates of Penzance. Photographer: © Lisa Tomasetti
More reading