Saturday Night Fever
Music & Lyrics: The Bee Gees (Robin Gibb, Maurice Gibb, Barry Gibb). Book: Robert Stigwood assisted by Bill Oaks. New Version arranged and edited by Ryan McBride. Director: Madeleine Johns. Musical Director: Sherree Drummond. Choreographer: Brodie Jones & William Motunuu. Redcliffe Musical Theatre & Our Village Production. Redcliffe Cultural Centre, Redcliffe, Qld. 19 March - 12 April, 2015
Ever since the stage version opened in London in 1998, Saturday Night Fever has been in continuous production somewhere in the world. Based on the 1977 movie, which in turn was based on a 1975 New York magazine article Tribal Rights of the New Saturday Night, the story of Brooklyn youth Tony Manero whose love of dancing makes him forget his crummy homelife with a deadbeat alcoholic father the story has resonated with audiences around the planet. Add the iconic disco songs of the Bee Gees and you have a match made in disco heaven.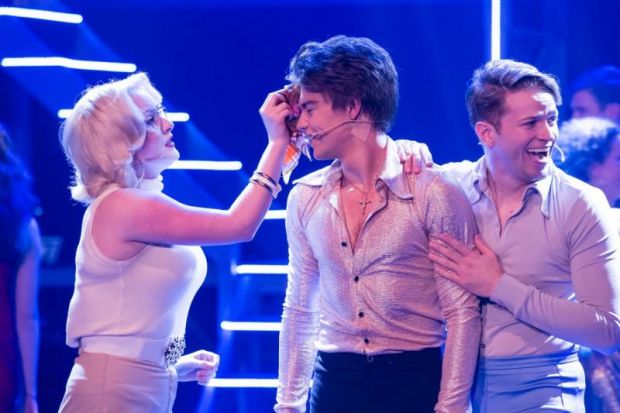 The rights to stage the first amateur production in the world went to Redcliffe Musical Theatre, and what better place to premiere it than in the Brisbane suburb where the Bee Gees grew up.
The script eliminates many of the movie's darker elements of racial conflict, drug use and violence, and makes it more family friendly. As the troubled 19 year-old teen Tony, 19 year-old Adam Goodall turns in a solid and likeable performance. It's a mammoth role which the talent he showed in last year's Hairspray for Prima is put to the test, and he comes through it both musically and dramatically with flying colours.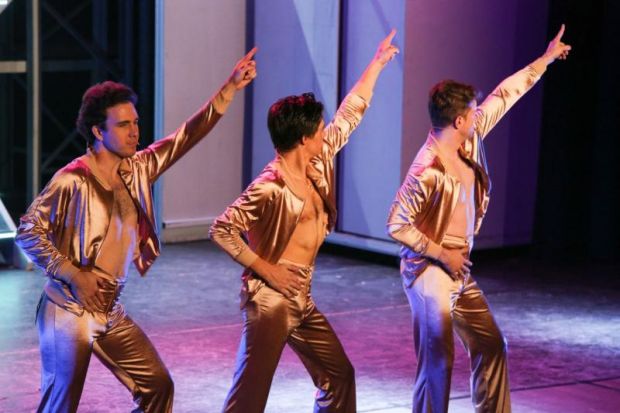 As Tony's dance-floor partner Stephanie Mangano, Michelle 'Rebel' Murenec has a sultry Latin look, an appropriate fiery temper, and dances with flair. Simon Chamberlain was a strong and convincing Bobby C and sang "Tragedy" with passion, while Rebel Lyons had the acting chops to do justice to Annette but was a bit pitchy on her vocals. Others to impress were Patricia Dearness as the mother, Stephen Snape as Frank Jnr, the son who leaves the priesthood, and Doug Harper as the paint store owner Fosco.
Bruce Noy's scaffolding set was extremely effective, especially the elevated walkway which doubled as the bridge, with terrific video FX by Hoy, Clay English and Andrew Haden.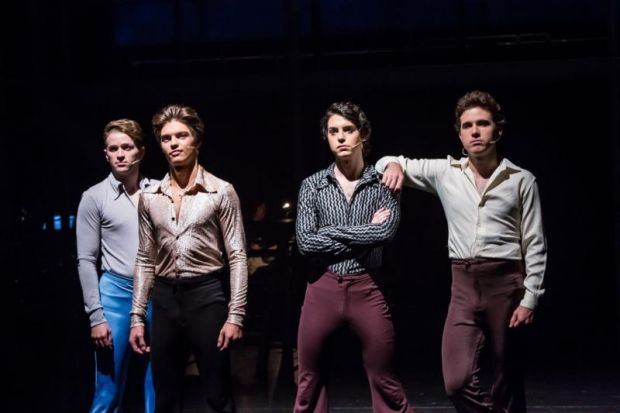 Camilla Niebling and Debbie Burleigh's costumes plundered the 70s wardrobe with lots of hip-hugging flares and platform shoes. Sherree Drummond on keyboard kept tight control of the 10-piece group, while Brodie Jones and William Motunuu's choreography created multiple variations on disco moves that lovingly saluted the period.
Despite the new book not being as dramatically tight as the original London version, the show still had the audience dancing in the aisle at the finale because it's the Bee Gees songs they come to hear - great songs that defined an era - "Stayin' Alive", "Jive Talking", "You Should Be Dancing", "More Than a Woman" and "Night Fever".
So put on your white suit and flares and boogie on down to Redcliffe for a retro trip back to disco-land. It's a happy experience!
Peter Pinne