The Second Hurricane
Composer: Aaron Copland. Librettist: Edwin Denby. Horti Hall. Conductor: Angus Grant. Director: Alastair Clark. Playhouse Theatre. October 6 – 15, 2017.
Victorian Opera continues to forge a pathway for the appreciation of opera through their Victorian Opera Youth Chorus Ensemble. Apart from presenting an opera which can be appreciated by a younger audience, they are giving valuable experience to young singers who may, one day, tread the operatic boards.
Aaron Copland's one act opera was written to be performed by secondary school students, so it was an ideal choice. Being in English certainly helped.
For me, the star of the opera was the chorus. With thirty women and one third that number of men, they came over as a well-balanced, tight ensemble. Every word could be heard. They were major players in this opera, where they were constantly narrating the story and commenting on the action. Congratulations to Angus Grant who, I expect, trained the chorus as well as conducted the performance.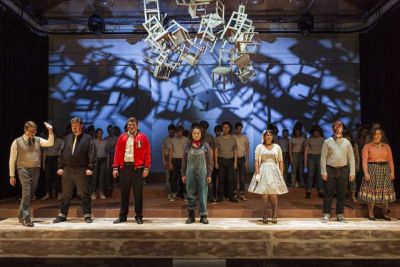 They were also constantly moving. What an excellent training ground for these young singers.
There were seven principals, with each creating a distinct character. James Emerson, James Young and Shimona Thevathasan were the only ones with an aria to sing, and each took their moment to shine.
It was a concert performance, and often performers would be singing to the front, instead of to their opposite number, but it was all cleverly worked out and executed. Developing Artist, Alastair Clark, should be commended for this.
Well worth a look for those interested in the future of opera.
Graham Ford
Photographer: Charlie Kinross