Secret Bridesmaids' Business
By Elizabeth Coleman. Mixed Company. Visy Theatre, Brisbane Powerhouse. 13-23 July 2011
If you know controversial information about the past behaviour of a friend's partner or lover, should you tell them? The playwright poses this conundrum.
Superbly cast, masterfully directed by Simone de Haas, and achingly funny, this tragi-comedy with teeth is a welcome addition to Brisbane's current fairly dour theatre offerings.
Bride-to-be (Jane Barry), her mother (Glenda Linscott), and bridesmaids (Louise Brehmer and Niki-J Price) take a hotel room together the night before the wedding, to finalise arrangements. The usual chaos ensues. The comedy is unrelenting ─ it's impossible for the audience to avoid getting involved, especially in this intimate thrust-stage venue. Then one bridesmaid's conscience forces her to reveal something she knows about the groom's background. All hell breaks loose. The bridesmaid is dismissed for telling and a new bridesmaid (Lauren Jackson) is dragooned and dismissed (the second act is hilarious). The groom (Matthew Filkins) turns up unexpectedly and attempts to resurrect the romance in tatters.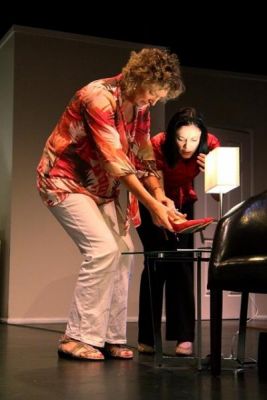 It is strictly a chicks' night out, but blokes should go if they want to understand how girls' minds work. By the end you'll realise that two-timing your partner is unforgivable ─ but the equivalent things girls get up to are OK. Beginning to understand?
You won't get to cry at this wedding. You can argue later if the wedding happens or not. It's a theatrical gem!
Jay McKee
Images: (Top) Lucy (Niki-J Price), Meg (Jane Barry) and Angela (Louise Brehmer) – Bride and Bridesmaids' behaving badly. (Lower) Colleen (Glenda Linscott) and Meg (Jane Barry) discuss the state of the bridesmaids' shoes.
To keep up with the latest news and reviews at Stage Whispers, click here to like us on Facebook, or follow us on Twitter.