The Secret River
By Kate Grenville. An adaptation for the stage by Andrew Bovell. Sydney Theatre Company, Sydney Festival, Allens (law firm). Director: Neil Armfield. Sydney Theatre. 8 January – 9 February, 2013.
Arriving at the Sydney Theatre for the official first night of The Secret River you can't miss the poster that declares you're about to see THE LANDMARK THEATRE EVENT OF 2013. That's confidence: after all, it's only January 12.
But the combination of Kate Grenville's great novel (short-listed for the Booker Prize in 2006), Andrew Bovell's outstanding play-making skills (Speaking in Tongues, When the Rain Stops Falling) and Neil Armfield's directorial brilliance might just make the poster writer's cheeky prediction come true. Certainly the packed and influential audience had no doubts by the end: they rose to their feet and cheered and cheered.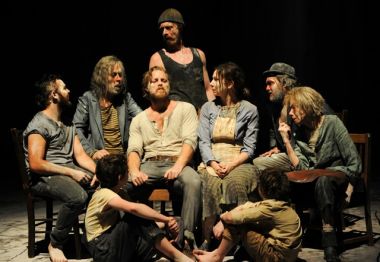 Grenville's novel tells how in 1813 ex-convict William Thornhill takes his family to the 100 acres he's been granted along the Hawkesbury River, north of Sydney. Bovell's play expands the focus to more equally include the aboriginal family whose way of life is immediately threatened. Though there is never doubt about which tribe, black or white, will be the winners of this clash of civilisations, director Armfield brings theatrical fluidity and some bitterly moving images on Stephen Curtis's soaring cliffside setting.
Nathaniel Dean is fine as the confused and compromised Thornhill who knows nothing about farming. "The only thing you know about a turnip is how to eat it," says Sal, his loyal, put-upon wife. Anita Hegh's London accent perfectly underlines how much she misses her faraway homeland, just as her family prepares to seize the homeland of the local aboriginals.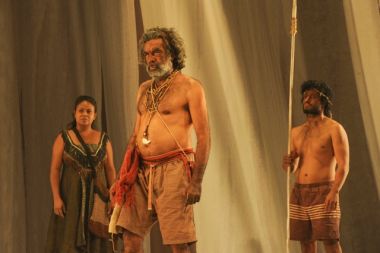 The gang of lawless and generally obnoxious white settlers who squat along the river are robustly played by Daniel Henshall, Jeremy Sims, Bruce Spence and Matthew Sunderland. Along with the more thoughtful Colin Moody, they add frightening power to the dark tale. They are also called upon to double as kangaroos and vicious dogs.
The unprepared blackfellas, dignified and ultimately doomed, are finely portrayed, too, with Ursula Yovich delivering Grenville/Bovell's narrative: she rarely leaves the stage.
There's a live soundtrack played by composer/musician Iain Grandage whose cello sets a melancholy tone and who plucks and twangs the strings of an upright piano. Members of the cast occasionally join him with guitars, bass and clarinet.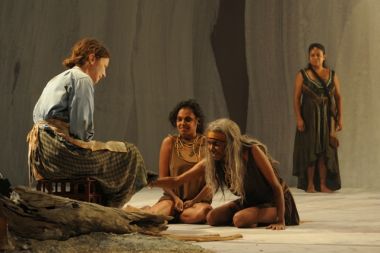 A campfire burns onstage throughout, sometimes it's the whites that huddle round it, sometimes it's the blacks. Oddly, a plastic milk crate has time-travelled to be used as a campfire seat.
When a determined Thornhill attempts to explain to the uncomprehending blacks that this 100 acres of bushland now officially belongs to him and that they should "bugger off somewhere else" the ghastly absurdity of the rolling takeover becomes frighteningly clear. The final scene of victory is bleak indeed.
Frank Hatherley
Images (from top): Ursula Yovich; Daniel Henshall, Bruce Spence, Callum McManis (sitting) Nathaniel Dean, Matthew Sunderland (standing), Anita Hegh, Rory Potter (sitting), Jeremy Sims and Judith McGrath; Ursula Yovich, Roy Gordon and Rhimi Johnson Page, & Anita Hegh, Miranda Tapsell, Ethel-Anne Gundy and Ursula Yovich in Sydney Theatre Company's The Secret River Photographer: © Heidrun Löhr.