The Secret River
By Kate Grenville adapted for the stage by Andrew Bovell. QTC presents a STC production. Director: Neil Armfield. Playhouse, QPAC, 25 Feb – 5 Mar 2016
The Sydney Theatre Company's highly praised production of Andrew Bovill's The Secret River more than lived up to its advance hype and expectation. It was epic and powerful theatre. Not since the same author's When the Rain Stops Falling have I been so moved by an Australian drama, and Neil Armfield's direction of it was flawless. Originally seen in 2013, this new production has allowed the creatives to take a second look at the material and the result was searingly memorable.
Set in early colonial times, pardoned convict William Thornhill, his wife and two sons, seize a parcel of land on the banks of the Hawksbury River north of Sydney to farm. The area has been home to the indigenous Dharug people for 40 thousand years and they resent the intrusion of the colonists. When Thornhill returns from a trip to Sydney with a gun, the outcome is never in doubt. Whilst the family learn to adapt and live with their Aboriginal neighbours, conflict escalates and a massacre ensues.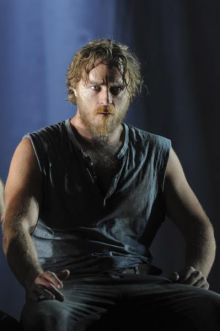 Stephen Curtis's brilliant set design overwhelmed as you walked into the theatre - a floor to ceiling cyclorama of ghost-gum trunks, with a campfire downstage, on a circular stage area that juts out into the auditorium. The atmosphere was instant. And with Mark Howett's lighting, Steve Francis's sound, and Iain Grandage's eclectic plucked-piano-string score adding to the mix, the production enveloped you before the actors even appeared.
An ensemble cast of indigenous and white actors brought this harsh frontier landscape vividly to life, their faces all painted with white-ash. The aboriginal actors only spoke in the native Dharug tongue, whilst the white performers at various times played dogs and kangaroos. In a program note director Armfield admits they toyed with the idea of using sur-titles, but discarded it. It would have helped clarify some sequences but it was not really necessary.
As the illiterate ticket-of-leave man Nathaniel Dean was a strong presence as William Thornhill, an idealist who's conflicted and makes a terrible decision he has to live with for the rest of his life. As his wife, Sal, Georgia Adamson expressed sympathy and guts and was not afraid to show raw emotion when needed. Ningali Lawford-Wolf's narrator Dhirrumbin was a dominating force mystically weaving in and out of the action holding it all together. Richard Piper, Bruce Spence, Jennifer Hagan, Colin Moody and Matthew Sunderland played a ragtag group of Hawksbury River misfits who provided most of the evening's humour and a lot of its horror, whilst Trevor Jamieson was a perceptive elder Ngalamalum.
Tess Schofield's costumes were also an added plus.
It's not surprising The Secret River won six Helpmann Awards for its inaugural season in 2013. It's a crowning achievement.
Peter Pinne