Seussical
By Stephen Flaherty and Lynn Ahrens. The Regals Musical Society (NSW). Bexley RSL Club. November 22 – December 1, 2013.
So many elements of this lively production are terrific, including committed performances; inventive choreography by Stephanie Westbrook performed with energy, expressiveness and enthusiasm by the company; strong production values including the best conceived temporary stage ever in this makeshift venue, and charming moments of interpretation including the undersea sequence, the portrayal of the kids as scouts and Horton's trial sequence.
Overall, though, this brightly performed Seussical feels a bit de-Seussed.
I can't grasp why director Kenney Ogilvie decided to humanise the delicious animal characters in the piece, removing the essential fable quality of this charm show.
In this version, the characters that are written as animals, with recognizable human qualities, mostly become humans with limited remaining animal traits. Exceptions to this are the three delightful Bird Girls (Veronica Alonzo, Adelle Battam and Clair Duffy), whose pouty, vivacious pit singer interpretations have an avian edge to them.
Horton (Mal Tuck) becomes a slim, amiable introspective guy rather than a socially awkward elephant, and in her spotted dress, Gertrude McFuzz (Sally Redmann) comes across as a sweet, attractive girl, but the sweet angle of a bird in love with an elephant is diminished. Tanya Boyle's Mayzie is a tarty leather-jacketed bad girl. Johnny Acosta's sour kangaroo becomes an androgynous soul diva, and his joey (is that possible) just a muppet. There's not much monkey, either, to the streetwise delinquent Wickersham lads.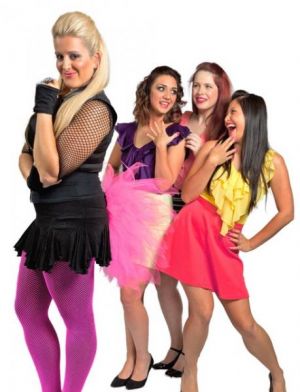 No criticism, though, of the performances, as the cast absolutely commit themselves, and their considerable talents, to faithfully delivering Ogilvie's concept. In the end, too, all power to community theatre directors brave enough to keep things vibrant with original creative choices.
None of this affects young Duncan McDonald, engaging as JoJo, the boy whose thinking and fantasies are key to the story.
Driving the night along, Meg Day's Cat in the Hat is a wonderfully original take on the role; a cheeky reprobate, knowingly manipulating the mischief all night, and breaking the fourth wall regularly to engage with the audience to great effect, in a particularly witty, beautifully timed performance.
Peter Sharratt and Michelle Harper play the larger-than-life Mr and Mrs Mayor with vaudevillian zest, while the children's ensemble clearly have a great time throughout.
The neutral totally white box design, with colour mostly expressed by lighting and costumes (even the props are white cut-outs) is a strong (mostly) unified concept (though, I wonder, are the coloured strips in the undersea fantasy, and ensemble costumes which seem to represent the forest, small design inconsistencies?).
Still, I had an enjoyable evening. The enthusiastic response of the audience makes it clear just how enjoyable Seussical remains within Kenny Ogilvie's directorial vision, while Clare Moroney's musical direction is brisk and snappy, but this musical's world is supposed to constantly spring from the mind of an over-imaginative child, and sometimes I longed to be taken on greater flights of fantasy.
Neil Litchfield