The Shadow Whose Prey the Hunter Becomes
By Back to Back Theatre ensemble. Directed by Bruce Gladwin. Melbourne International Arts Festival, Arts Centre Melbourne, Fairfax Studio. 9-20 October, 2019.
The five performers Michael Chan, Mark Deans, Simon Laherty, Sarah Mainwaring and Scott Price, each with their own unique disability, recreate a kind of public forum to discuss the ways in which their contribution to and visibility in society is suppressed. From the conversations which unfold, this suppression results in excruciating personal humiliation and even unabated physical and psychological exploitation.
This grim and confronting reality is never told with a heavy hand nor with anger and hatred. The material is dealt with in a measured and often humorous tone, which is quite disarming for the audience. The opening of the show combines this capacity to address serious and sensitive issues with the ability to see the comic side as they discuss appropriate sexual behaviour in public and private spaces.
Striking such a fine balance is the result of a long journey of exploration and experimentation by the performers themselves, as part of the process which characterises the approach of Back to Back Theatre. This production by the Geelong based company has evolved over months and even years and illustrates the wisdom that this kind of introspective and in-depth reflection can produce.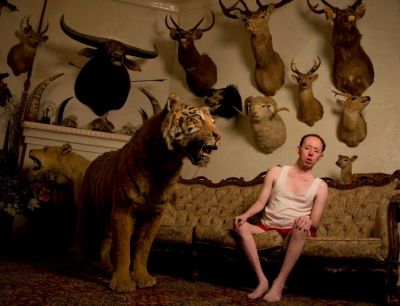 The use of music to accentuate some of the troubling aspects of the reality of living with a disability highlights the poignancy of the stories which emerge. The slow and relaxed jazz music in the background adds an astonishing level of drama to the discussion. When Price delivers some of the more sombre details of their disturbing reality from a makeshift pulpit this takes on epic and estranged proportions. The dimensions of the scene become larger than life and the echoing sound of the speech shows an extremely subtle but powerful use of staging. What begins as a modest looking set with a simple and direct approach evolves into a highly sophisticated and discerning use of space.
A range of issues around ethics and human rights are covered in this piece and one of the more self-reflexive moments is the way presence of the subtitles is managed. At a certain point the performers engage directly with the subtitling and the ubiquitous and controlling presence of artificial intelligence is driven home, but its ability to sometimes be more humane than humans is also highlighted. The performances are nuanced, the production is clever and gracious and the audience is left feeling somewhat ashamed, if they expected anything less.
Patricia Di Risio
Photographer: Jeff Busby