Shakespeare in Hollywood
By Ken Ludwig. Castle Hill Players at the Pavilion Theatre (NSW). Feb 1 – 23, 2013.
Remember the 1935 movie of A Midsummer Night's Dream? Max Reinhardt directing (in German) for Warner Brothers? Mickey Rooney, James Cagney, Joe E Brown? Now imagine that Oberon, the fairy king, and his offsider, Puck, have transmogrified onto the set and been cast to play themselves.
Ken Ludwig has done just that in this farce of impersonations (Cagney, Brown, Louella Parsons), comic interpretations (The Warner Brothers, Max Reinhardt, Will Hays), and cleverly contrived complications involving lust, love, jealousy and fairy mischief with the juice of a flower and a donkey head.
This is a play that demands the fast, over-the-top action of farcical comedy, but also has a plot and sub plots, dialogue that entertains as well as providing some intellectual stimuli and characters that have more depth than is often found in farce. Ludwig has mixed the rising glitz, glamour, dollars and censorship of post Depression Hollywood and the supernatural magic of "The Dream" (and quotes from other Shakespearean plays) in a series of impossible juxtapositions that have the possibility of being hilarious.
Fortunately director and set designer Paul Sztelma has an eye for plays such as this and has found the essence of its comedy and the satire that underlies its characters and themes. His production is clean and fast and very funny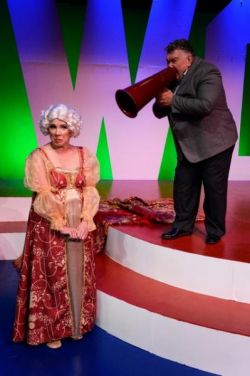 His set is minimalist but very effective. Giant middle letters of the word Hollywood provide the backdrop above two curved steps at the back of the stage. The few necessary props are wheeled on when required. Clever lighting (Andrew Kinch) and sound effects (Sztelma again) turn the stage from sound set to restaurant to a Hollywood-style party – and add moments of magic for Oberon and Puck.
Sztelma's cast of 12 playing 15 roles has, for the most part, risen to the pace he demanded and the characterisation he sought.
Rickard Roach stands out in the role of Oberon. He is lithe and ethereal. His very careful diction and musical delivery provide a sharp contrast to the broad (and sometimes far too loud) American accents of the "Hollywood" cast, as do his elegant poses and light physicality. His Master-Servant relationship with Puck (Tiffany Hoy) provides some funny moments, especially as he tries to understand the idiom of movie-land. Hoy rolls well (literally) with his rough treatment and impatient demands and finds some of the independent cheekiness and mischief of the original Puck. The use of an Australian accent here didn't quite jell with that of Oberon or the period of the play.
Brooke Davidson has obviously enjoyed creating the character of Lydia Lansing, the airhead New York actress, girlfriend of Jack Warner, who is to play Hermia. Her strident Bronx accent grates, but adds real humour to her delivery of The Bard. She flounces and poses, shrieks and accuses and just refrains from going too far with her characterisation, especially in her scenes with Jack (Jeremy Johnson) where it would be very easy to do so. Johnson's depiction of this character is almost one dimensional. Though his physicality and pace are good, he seems only to find the loud anger of the character, constantly shouting but realising few other emotional levels.
Lauren Vincent is sweet and convincing as Olivia Darnell, who is to play Helena. Her character is the antithesis of Davidson's. She has talent, she knows her Shakespeare, she is youthfully elegant and attractive – and Oberon falls for all of these charms.
In his introductory scenes, Stephen Snars carefully underplays Will Hays, namesake of the Hays Code of Censorship of American films. His strong, confident demands for changes to the script as he confronts Reinhardt (Christopher Bancroft) give no portent of what will happen when Oberon's flower works its magic on him. Here Snars works well under Sztelma's careful direction to create some very special moments of the play.
There are some other very funny performances. Phil Lye makes the very most of his interpretation of Joe E Brown playing Francis Flute playing Thisbe. Lye spends most of his time on stage in drag, but never loses the character of Brown beneath his gown and wig. Dennis Channels is a raspy voiced Cagney, and Annette Snars an elegantly gowned and star-struck Louella Parsons. Christopher Bancroft struts and blusters as Reinhardt and Gavin Jamieson alternately bows and scrapes as Warner's lackey or bustles around the set as assistant to the director.
Sztelma has found the just the right pace for this production. The comedy builds quickly but smoothly and the cast and sound and lighting operators work well together to co-ordinate all the hectic frenzy as the Puck's wanton flower works its magic in Act Two.
Carol Wimmer