Shakespeare's Will
By Vern Thiessen. The Old 505 Theatre, 505/324 Elizabeth Street, Sydney. Director: Gareth Boylan. August 14 – 21. Sydney Fringe season – September 8 - 11, 2011.
Talk about off the radar theatre! Like some secret society, patrons for the Old 505 Theatre must first hunt out the grey, scaffold-wrapped, unprepossessing doorway of the former printing works in downtown Surry Hills, then spot easy-to-miss instructions to buzz upstairs for the door to be remotely unlocked, then take the graffiti-covered lift to the fifth floor, walk windingly past artists' studios, cross to the next building, arriving at last at the old sofas and the friendly all-white theatre space, a genuine throwback to the hippy/happy experimental theatre scene of the 60s and 70s.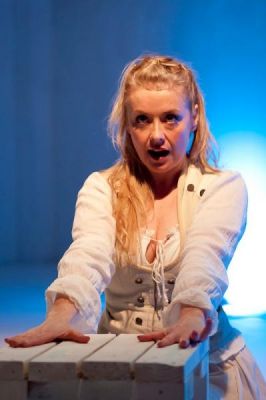 Opening this great new space, recently a jazz club, is the Australian premiere of Shakespeare's Will, a full-length one-person drama by Canadian Vern Thiessen. Anne Hathaway, performed with consummate ease and passionate commitment by Lucy Miller, tells us how, at 26, she meets and very quickly becomes pregnant by 18 year old wannabe playwright William (she calls him Bill) Shakespeare. They vow "their own kind of marriage" which — wouldn't you know! — turns out to be rather more favourable for him writing and producing plays in London than for her raising his children in Stratford.
Ignoring the traffic noise from busy Elizabeth Street far below, and the muffled bass (and certain exotic smells) coming from the active studio next door, Miller dazzles with her recreations of scenes from Anne's unconventional, lonely life. Her duologues (and sometimes trialogues) are wonderfully speedy and utterly convincing.
Direction by Gareth Boylan is fluid and subtle: he uses an excellent lighting rig and some discrete sound effects. Joseph Nizeti plays live guitar accompaniment to the songs, movingly delivered by the accomplished Miss Miller. Look out for her. And search out this gem of a hidden theatre.
Frank Hatherley
Photographer: Patrick Boland.
To keep up with the latest news and reviews at Stage Whispers, click here to like us on Facebook, or follow us on Twitter.