Shane Warne: The Musical
By Eddie Perfect. Adelaide Fringe Festival 2020. Theatre One at the Parks Theatres. Feb 14 -21, 2020
Even though no longer actively playing professional cricket, Shane Warne remains the most flamboyant cricketer in Australian (and perhaps world) history.
Presented by Segue productions Shane Warne: The Musical, with music, book and lyrics by Eddie Perfect, is an irreverent and cheeky musical journey through the professional and personal ups and downs of one of the world's greatest cricketers, from teenager, to international spin bowler, to scandal after scandal and his romance with Liz Hurley.
The production is set in the round, with a strip of artificial turf and chairs, the Howzat Band, and with performers dressed in simple white t-shirts and jeans. There are costume additions for different characters, as the actors lead us through Shane Warne's turbulent life.
Playing in broad Australian is extremely difficult without going over the top and the cast are to be commended for their diction both in the dialogue and the songs.
Each of the cast members is strong and all have their moments to shine, with each having one main character and minor characters to keep the story flowing.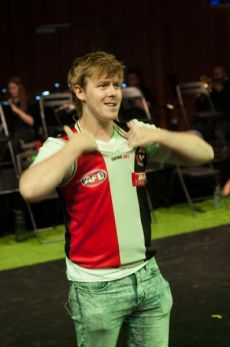 The male ensemble, Blake Ascione, Michael Butler, Shane Huang and Nic Equid, work well together and their number "We Never Cross the Line" is a riot. Other highlights are Butler's songs "Piss It All Away", "Pick Up Shane" and Huang's "My Name is John".
The female ensemble, Kelsey McCormack, Ashleigh Rathjen, Kristin Stefanoff and Sarah Jane Whiteley, are equally strong, with highlights including Stefanoff's "What About That Shane?" and Whiteley's "It's Love".
Buddy Dawson is Shane Warne incarnate; ballsy (no pun intended), rebellious, naïve and impulsive. This role calls for a wide vocal range and Dawson nails it with ease. He is a powerhouse of energy and runs the gamut of emotions while dancing up a storm.
Brian Godfrey proves once again that he understands musicals and is able to get the best from his cast. His direction is inventive, tight and makes full use of the 'in the round' staging. Set pieces are kept to a minimum and largely managed by the cast. The cast interactions with the audience were hysterical without drawing focus.
Ben Stefanoff has a reputation for high quality musical direction and this show is no exception. His Howzat 11-piece band is extremely tight and the cast vocals (particularly the harmonies) never miss a beat. He manages all this while conducting from the keyboard.
Mark Stefanoff's choreography (with help from Ashleigh Rathjen and Kelsey McCormack) is quirky, well drilled and skilfully executed, a delight to watch.
My only reservations with this production of Shane Warne: The Musical are that the execution of sound and the drums dominate at times. On opening night the miking was fuzzy and often not accurate. The balance between band and cast was uneven, resulting in a lot of lyrics being missed which made Act 1 and the faster numbers difficult (at times impossible) to understand. A lot of audience members around me expressed the same concerns. Hopefully the issues are being addressed.
All in all though, you don't have to know anything about cricket to enjoy Shane Warne: The Musical. Just sit back and enjoy!
Barry Hill
Photographer: Daniel Salmond
To read more Adelaide Fringe 2020 reviews click here