Shane Warne the Musical
By Eddie Perfect. The Cabaret Company, Wrest Point Entertainment Centre Hobart. Dylan Wells (Director). 22 April – 8 May 2021.
Eddie Perfect is responsible for the music book and lyrics for Shane Warne- The Musical. The music is delightful, eclectic and wonderfully scored. The most satisfying aspect of the April 22nd opening at the Wrest Point Entertainment Centre was the on stage band under the direction of Andrew Morrisby, who directed from the keyboard. The show is very well orchestrated with winds and strings. The musical ensemble was tight, well balanced and of the highest standard. In the absence of a published program, it is impossible to commend the individual members of the ensemble but Derek Grice on flute had some extraordinary moments.
The style of the music is eclectic and parodies many of the standard forms of the musical genre using soul, rock, pop, opera, gospel and Bollywood. There are production numbers, introspective ballads along with gospel-like moments of revelation and vision, some of which are definitely tongue-in-cheek and some of which have genuine emotional resonance.
Perfect is also responsible for the very clever lyrics. One highlight was the song, "Hollywood", with the many allusions to iconic Australians and gems such as the rhyming of "no drama" with "kick-ass armour". This clever humour hits the mark but much of the comedy feels like it is from another era, particularly around the representation of women.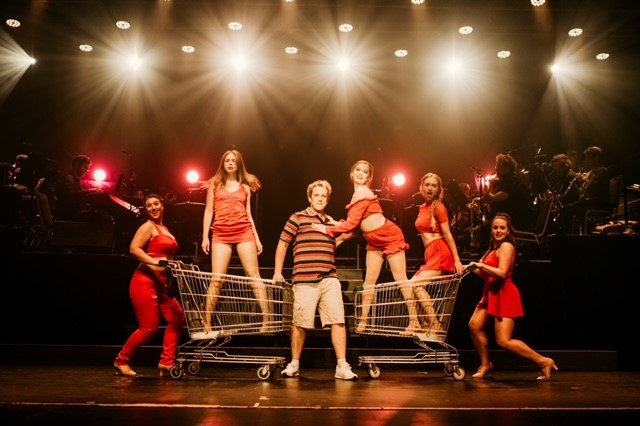 Scott Farrow was an excellent choice for the title role, vocally, physically and in terms of personal charisma. There were many excellent supporting characters although some top-draw singers were required to sing outside of their normal range or to sing in a style in which they were not comfortable. Jane Hamilton Foster was an exception in her versatility when smashing a gospel solo. Jeff Keogh was a very strong addition to the cast in his several roles.
There was some excellent ensemble singing, most notably "Beautiful". Some highly skilled dancers were not as proficient as singers with the reverse being also true but, overall, the ensemble was very good. The choreography was varied but "Payin' Attention Now" was one piece that was particularly engaging. Some of the male dancers struggled at times. Prophecy Mudzingwa and Jeremy Pyefinch were not of that number.
One disappointment was the audio quality and mix of the vocalists. There was a persistent rumble from Tasman Room air conditioning which marred quieter moments. Intermittent feedback, ambient noise from the stage and odd pops and crackles were unpleasant. Many audience members commented that they could not hear the words the performers were singing. This is perplexing since the sound of the instrumental ensemble was top notch. The show is worth seeing for the orchestra alone. Overall Dylan Wells deserves to be commended for his energy and vision.
Anne Blythe-Cooper
Listen to the original cast album on Spotify.