Shaun The Sheep's Circus Show
Circa and Aardman. Regent Theatre Melbourne. April 14 – 18, 2021
Shaun the Sheep's Circus Show has hit the Regent Theatre in Melbourne for the school holidays. Two creative powerhouses have come together for the first time and developed a dynamic new visual extravaganza. Circa, an international touring circus company based in Brisbane, have collaborated with Aardman UK animation studio, uniting their audiences for an adventurous and wholesome new theatrical experience that offers a contemporary mix of dynamic circus acrobatics with cutting edge visual storytelling.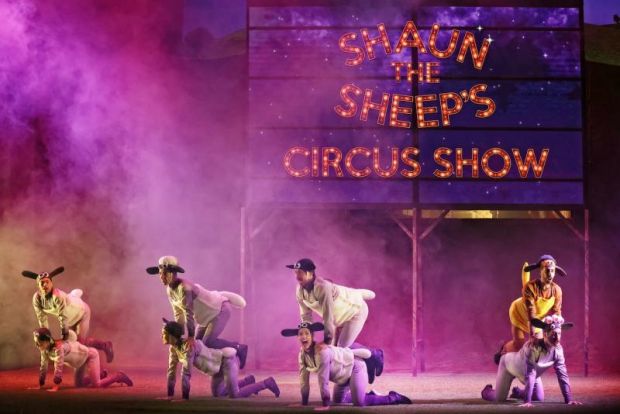 We are all familiar with the clay animation children's TV series Shaun the Sheep, developed by Aardman, creators of the multi award winning Wallace and Gromit. Not to stray from the flock, Shaun the Sheep is also their successful spin off with an impressive 170 episode TV show, also spawning two feature films.
Shaun The Sheep carries the distinctive Aardman trademark, combining slapstick and silent comedy. There is very little spoken dialogue except for a few bleats, grunts, barks, growls, pointings, sighs, mutterings and other similar word inflections. Director Yaron Lifschitz, who is also Circa's artistic director, was up for the creative challenge in bringing life to a plasticine world full of rambunctious characters in a stage setting, performed by real life daredevil acrobats.
Similar to the animation TV series, fans will be tickled pink by the performing acrobatic adventures such as - The Runaway Tyre; A Star is Shawn; Flocktober; Paper Planes and the Red Bull Act - to name some of the many. The ensemble performers offer many of the traditional acts including an awe-inspiring aerial silk act, a buffoonish triple trapeze skit, a jaw dropping majestic Chinese pole routine and a colourful fluorescent juggling act.
Believe it or not this circus show is all about "incredible skills and amazing thrills", so it states on the faux billboard (LED-screen) that magically morphs between fading posters, character introductions and many interactive moments that timely interact with the circus performers at the front of the stage. Then we have a three-dimensional rolling field which tracks up to the Mossy Bottom Farm at the top of the hill, which includes a window into the farmhouse where there is appropriate live action.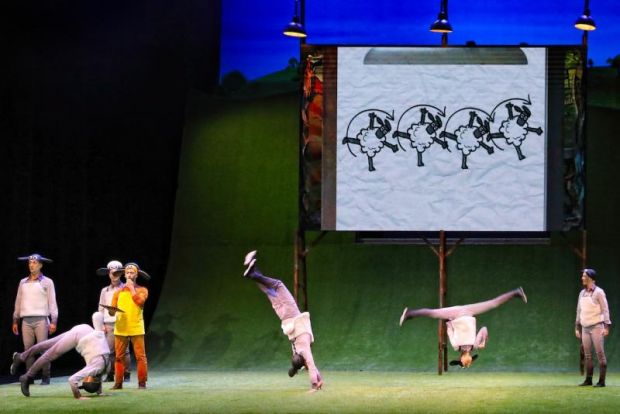 Shaun The Sheep's Circus Show is a beautifully balanced circus live show that is fabulous, funny and quite brilliant.
Flora Georgiou
Photographer: Prudence Upton