She Loves Me
Music: Jerry Bock. Lyrics: Sheldon Harnick, Book: Joe Masteroff based on Miklos Laszlos "Parfumerie" (1937). Direction: Scott Ellis. Musical Director: Paul Gemignani. Choreographer: Warren Carlyle. PBS Broadway At Home. 24 July 2020 (also Broadway HD)
For years She Loves Me was on every musical theatre buffs bucket list of 'must see' musicals. Melbourne's Production Company presented the first Australian production of it in 1999 and recently Sydney's Hayes Theatre did a highly acclaimed version as well. Based on Miklos Laszlos's boulevard Hungarian comedy of 1937, the story has been told many times: in the non-musical movie Shop Around The Corner (1940), with Jimmy Stewart and Margaret Sullivan, in a musical version In the Good Old Summertime, with Judy Garland and Van Johnson, and more recently it became the plot for You've Got Mail with Tom Hanks and Meg Ryan.
It's also had three major productions on Broadway and two in London, but all of them failed to return their investment. It's difficult to know why - the score is sumptuous, the lyrics are literate, and the book is witty.
This 2016 Roundabout Theatre Production ticks all the right boxes. Beautifully cast, gorgeously sung, it's a lovely night at the theatre. Yes, the chocolate box story of two perfume store clerks who despise each other at work, but are pen-pal lovers, is a sweet confection, but it's played with the such ultimate sincerity that by the finale the tears are not only streaming down the faces of the principals but also the audience.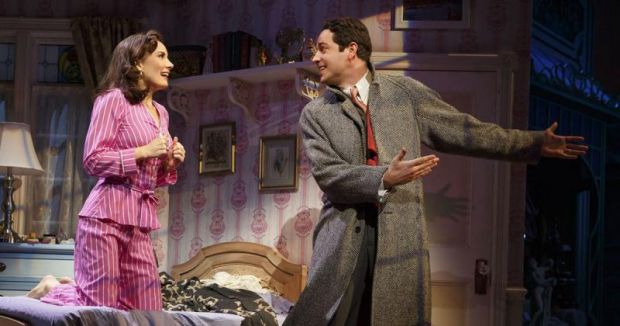 Laura Benanti's Amalia is perfect - feisty and combative, tender and sweet, with a glorious soprano voice. Her vocal of "Ice Cream" rivals Barbara Cook's original. Zachary Levi's Georg is endearingly shy, with a Jimmy Stewart throwaway charm, and he sings more than pleasantly, with the title tune being a highlight. Their second act bedroom scene is a delightful comedic romp.
Jane Krakowski's Ilona almost walks away with the show, with Gavin Creel's Kodaly not far behind her. She's a minx, he's a cad, and together they're sensational in "Ilona". She also gets every laugh out of "A Trip to the Library", whilst he owns the stage on "Grand Knowing You".
Byron Jennings (Maraczek), Nicholas Barasch (Arpad) and Tom Gowan (Sipos) do good work, but it's Peter Bartlett's outrageous turn as the Head Waiter that scores the laughs. Yes, it's OTT but it's funny.
The set, which opens like a storybook to reveal the perfumerie, has old-world European charm, the 1930s costumes have grace and style, and Scott Ellis's direction is flawless. Well worth watching!
Peter Pinne
She Loves Me is available for streaming by Broadway HD subscribers - https://www.broadwayhd.com