Sherlock Holmes and the Death on Thor Bridge
By Arthur Conan Doyle, adapted by Sandra Bass. Genesian Theatre Company. February 29 - April 4, 2020.
Sherlock Holmes mysteries have now overtaken Agatha Christie whodunnits in popularity for the Genesian Theatre, which has thrived as Sydney's home of good old fashioned drama. So keen were the Genesians, to ride the sleuth's wave of popularity that it has programmed a world premiere adaptation by member Sandra Bass.
The first challenge the company faced was how to squeeze a bridge onto its small stage. Set designer Tom Bannerman rose to the challenge - building a compact but authentic looking bridge, which is the scene of the crime. It neatly rotates for the second act, when the mystery deepens.
Originally written by Conan Doyle as The Problem of Thor Bridge, the crime appears to be an open and shut case. Maria Gibson is found lying in a pool of blood on Thor Bridge with a bullet through her head and a note from the governess in her hand, agreeing to a meeting at that location. The governess, who was being pursued by the dead woman's husband, is an obvious suspect.
However when Roger Gibson (Dean Tuttle) bursts into the home of Sherlock Holmes seeking help to find his wife's killer, the sleuth is immediately suspicious. Played with panache by Patrick Magee, the leading man was in fine form sparring with other actors and dropping dollops of wit and home truths.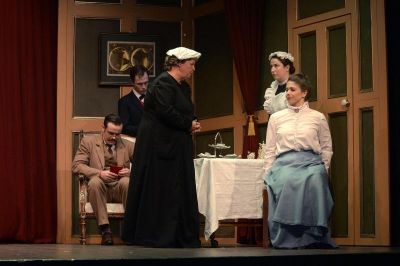 At first there was a little awkwardness when Sherlock Holmes abruptly a scolded a housekeeper, which made me feel that some of the era's attitudes to women would jar. But thankfully this is a tale where a central female character takes control of her life.
There are lots of fun characters in the play. Nick Fitzsimmons as Dr John Watson helped milk some of the best jokes when he had to re-enact the crime. Myles Waddell was amusing as the slow-coach Detective Phillips. Joanne Coleman was authentic as the suspect Grace Dunbar. In an era often dominated by male characters, this play has a further four other female roles who are part of the narrative, although not the brains of the investigation.
The production was briskly directed by Carlin Hurdis, aided by the punchy filmic flashbacks in the script. Set around the same era which the soon to vacated Genesian Theatre was constructed, this is a good fit for the venue – which sadly is being converted into a hotel. Catch a good night in the Genesian Theatre whilst you can.
David Spicer
Photographer:Craig O'Regan