Shirley Valentine
By Willy Russell. Ensemble Theatre, Sydney. Director: Mark Kilmurry. 3 May – 9 June 2018
'Marriage is like the Middle East – there's no solution!' So says 42-year-old Shirley Bradshaw in her typical, straightforward Liverpool manner. Once she used to be Shirley Valentine, before marriage to Joe and before her two children, Brian and Millandra. Now she talks to the walls in her Liverpool semi-detached home, one among whole rows in the streets outside.
Written in 1986, Shirley Valentine by Willy Russell is a forerunner in social history: a popular play dealing with everyday events that shines a bright beam on how we live. It's smart, funny and humane. And this new production, by the Ensemble Artistic Director Mark Kilmurry, goes at it full blast.
It's best if you have a fine actress in tune with the part (for this is a one-woman play) and Kilmurry has saved it for several years until his Shirley became available. Sharon Millerchip has been working as Resident Director/Choreographer on Aladdin and Strictly Ballroom: The Musical, but now triumphantly returns to acting. On opening night before a packed audience she shows what she can do with brilliant material and an alert production. She is a knockout and the house screamed for more.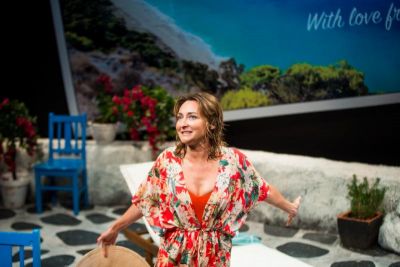 With an acceptable Scouse accent, she pertly filled in the background of her character – how predictable her life had become, how dull and mundane, how her friend was unexpectedly offering her a fortnight's holiday on a Greek island, and how she couldn't even tell her Joe about it. Was she going? You betcha.
Millerchip covers the ground: loneliness, regret and emotional abuse mixed with biting humour. 'Most of us die long before we're dead,' she says.
The play suits this venue; it seems to fit. The setting, designed by Simone Romaniuk, is great. The first act is in Liverpool, a kitchen with a view of long line of similar semi-detached homes; and the second act is a Greek island paradise under a huge postcard.
Frank Hatherley
Images: Anna Kuchera