Short+Sweet 2020
Week 2. Tom Mann Theatre, Surry Hills. February 20 – 23, 2020
For a highly entertaining night of theatre with a great variety of themes and styles make sure you get to the Short+Sweet Festival, running for 8 weeks, plus finals weeks, at Tom Mann Theatre in Chalmers Street Surry Hills.
Each week there are 10 or more plays, each no more than 10 minutes, which range from light comedies to serious drama and everything in between. At the end of the night the audience gets to vote for two plays, which adds another layer of interest as winners progress to a big finals week.
These were the nine exciting and very different plays presented in Week 2.
Bodhirattva. Written, directed and starring Jeremy Godwin as a rat, with Jesse Sher as a baby rat. A huge mouse trap with a giant piece of cheese sets the scene for a rat to tell come home truths about taking care of oneself - but at what cost to others? A clever, at times funny and moving one hander - and Buddhist allegory, Bodhirattva, has guilt over cheese eating mixed with saving the life of a baby rat.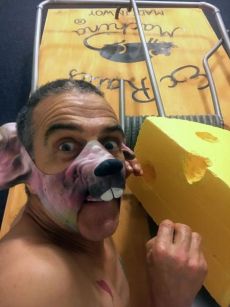 Danny Boy. Written by Sandra Fairthorne and directed by Tegan Ware. Two brothers, Oli Stening as Oli and Lucca Paijmans as Chester face their guilty past in a jail visitation room raising moral questions about the worth of telling the whole truth and how each person suffers a different type of punishment.
The Happiest Day Of My Life. Written by Pete Malicki and directed by James Fitzgerald. Shereen Nand plays Becca, forever the bride in this very funny comedy as she tries the have the happiest day of her life over and over again. The perfect husband just can't be found so needs to be replaced -leading to an unexpected end.
The Fourth Wall. Written by Stu Boyce and directed by Alyssa Gillgren. In this comedy there is audience participation when you're not having audience participation. The fourth wall is broken as two actors Sharlene, played by Nicola Tabuena, and Brock, played by Lucas Boyer, come to look at the stage from the audience's perspective where another two actors Xanthro, played by Aiden Mckenzie, are performing another play.
Bridge. Written and directed by Debbie Neilson. Five guests and one climb leader, Christine Firkin as Sally, Neil Modra as Charlie, Greg Thornton as Brad, Katie Lees as Sam, Lloyd Darling as Paul and Olivia Tegart as Peggy head up the Bridge but get more than they bargained for. All does not go smoothly when relationships are put to the text and hidden stresses and desires are released.
The Harsh. Written by Alex Dremann and directed by Caitlin Andrews. A newly married groom Nick, played by David Green, meets with one of the wedding guests Henry, played by Tim Breadmore who is an ex-boyfriend of his bride. Discussion on existentialism and morality, involving cigarettes and bacon sandwiches, gets mixed with lost love until the appearance of the bride Hannah, played by Skye Butcher changes the focus and decisions about the present are made.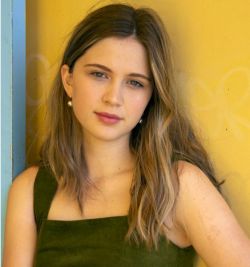 Now We Are Ten. Written and directed by Frank Leggett. A powerful performance by Miranda Michalowski as Abigail in this drama about a teenager who wishes to tell her tale to seek redemption and explain her actions. A cruel and vicious father drives a young woman to extraordinary lengths to save herself and her little sister.
Life. Written by Curtis Harrild and directed by Miroslav Nedeljkovic. The play examines the issues of depression and anxiety as an ordinary man Matthew, played by Elias Parker, struggles with a voice in his head, played by Miroslav Nedeljkovi. Will talking to a therapist Mrs Anderson, played by Alyssa Gillgren, help give him the strength to see a brighter future and go on, escaping the past which haunts him?
Curtain Call. Written and directed by Alicia Badger. It's the end of the play and the director Sam, played by Alex Fenner, is determined to have a spectacular curtain call. Serious objections are raised by the rest of the production team, Andrew Badger as Vic, Alicia Badger as Jo and James Fitzgerald as Charlie/Chris/Kim/Ash but will sense prevail or disaster strike?
Maggy Franklin