Shout! The Legend of the Wild One
By John-Michael Howson, David Mitchell and Melvyn Morrow. Koorliny Arts Centre and Kwinana Industries Council. Directed by Brad Tudor, musical direction by Shanice Tudor. Koorliny Arts Centre, Kwinana WA. Feb 21 - Mar 7, 2020
Koorliny Arts Centre and Kwinana Industries Council's production of the musical biography Shout! The Legend of the Wild One, is a big, bright, well produced show, which has its audiences tapping and rocking along.
The story of Johnny O'Keefe, his rise to, and battle with, fame, is told through the music of the era, and while the book of this show isn't amazing, the direction and enthusiasm of this production overrides the lacklustre story-line to create a tight and very enjoyable production.
Laurence Williams gives dynamic and likeable performance as the not-very-likeable central character Johnny O'Keefe, managing to create at least some of the magic of this famously captivating performer. Claudia Van Zeller is excellent as O'Keefe's girlfriend, and later wife Marianne Renate - with gorgeous vocal work, with Jon Lambert very strong as O'Keefe's eventual manager, American Lee Gordon.
Strong performances from Peter Shaw and Jane Anderson as O'Keefe's parents Ray and Thelma. Jane Anderson's rendition of "Mockingbird", with Laurence Williams and Brittney Northcott (as the New Girl), is a surprise high point of the show.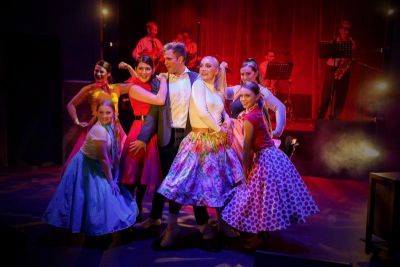 Great work from 'The Deltones', Jordan Jackson, Allen Blachford, Liam Gobbert and Jesse Angus, and the vocal trio, Stacey Hollings, Eloise Kirk and Brittney Northcott, who lead a very strong, highly focused and extremely busy ensemble who sing and dance very, very well. Allen Blachford's choreography is stunning and very nicely executed with some top notch moments - including some great freezes.
The band under the leadership of Shanice Tudor, are strong, with some visible at times 'playing' O'Keefe's band The Deejays. They look great, and add atmosphere, centrally placed on Jon Lambert's simple but very practical, and atmospherically lit set.
Costumes, by Brad Tudor, are at key moments outstanding, but at other times quite anachronistic (school uniforms, nuns and nurses) - which can throw you off if you are looking for costumes as an anchor for the timeline. Fortunately, well produced AV projections help keep the time and place clear.
This is a very strong show that I anticipate audiences will be shouting about, and I expect it will soon prove difficult to get a ticket. Simply a great chance to enjoy hit songs of the 50s and 60s in a well presented, fun and colourful musical.
Kimberley Shaw
Images: Deprimo Photography