Show and Spell
Wings2Fly Theatre. Holden St Theatres. Saturday 5th October 2019
Sixteen talented young actors, 2 passionate directors and a great script make for a fabulous production at Holden St Theatres of Show and Spell from Wings2Fly Theatre this October.
Michelle Nightingale and Alicia Zorkovic, two highly experienced theatre and voice professionals, founded Wings2Fly to inspire, train and mentor aspiring young performers in Adelaide. The Company presents three seasons of plays per year during school holidays and holds auditions for the roles.
Over six days, a demanding schedule gives these young people a true taste of professional theatre practice. Working with non-musical plays, the schedule includes character preparation, script analysis, performance techniques and working closely with other cast members in a supportive and nurturing environment.
With many successes under their collective 'belts', the Company will expand their productions to four next year and hold other stand-alone workshops such as Audition Preparation.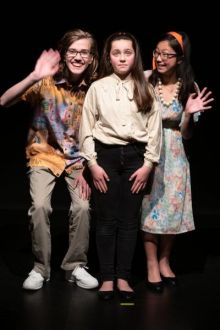 This current production is an entertaining play. The excellent Show and Spell is by American playwright Julia Brownell, who has written and produced for both television and stage. It follows the trajectory of five middle school students preparing for the local spelling contest, each immersed in their own particular style of learning. As they study, or attempt to study, each young character has to deal with amusing and variously helpful (or not) siblings, parents, friends and extended family.
Show and Spell has great elements of humour and satire but also serves to highlight the pressures of competition that contemporary youth have to contend with. The script is spare and eloquent and moves the story along at a good pace with many challenges for the cast - particularly in the amount of spelling-out-of-words they needed to accomplish. It also allows for surprising character development within a short time span, although I commend the two directors for much of the success in that area.
To mount such a cohesive production in six days is a credit to the team at Wings2Fly Theatre. I was struck by the performances of each and every young cast member and could see the dedication and professionalism that was instilled in them during their intensive rehearsal period. Also importantly, strong vocal quality was a feature most performers conquered with excellent clarity and projection.
The other attribute that shone from the stage was cast teamwork. An overwhelming sense of support and joy was apparent from the whole group, both in their performances and the slick, cast-managed set changes.
Younger generations are certainly in need of positive and life-affirming experiences in our uncertain 2019 world. Even if the young people involved with Wings2Fly Theatre do not take acting through to their adult lives, as Ms Nightingale pointed out, the transferrable skills learnt through the Wings2Fly experience will equip them well for any path they choose to take.
Lisa Lanzi
Photographer: Greg Adams, IMAGESTIX