Showstopper: An Interactive Murder Mystery
Written and directed by Rachel Keys and Kier Shoosmith. Back Door Productions. Fringe World. Connections Nightclub, James St, Northbridge, WA. Feb 12-15, 2020
Set in the nightclub Buenos Tiempos, we witness the lead-up to the show and the first part of the performance for the evening. When star of the show Scarlet Serenade dies in mysterious circumstances, the audience split into teams to search for clues, interrogate suspects and solve the mystery.
The poor victim, Scarlet Serenade, is nicely played by Jocelyn Campbell, and although we don't spend a great deal of time with Scarlett, we do get to see her perform.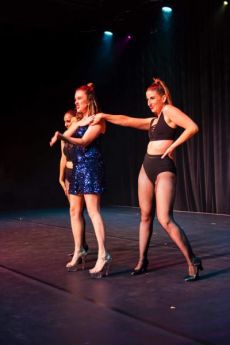 But who killed Scarlett? Was it the sleazy nightclub owner Frank Fisher, who has missed the memo about respect for women, played with conviction by Jarrod Buttery? Could it be jaded former star-of-the-show Amanda Adams, played with strength by Meredith Hunter. Edwardo Espinoza, the janitor, seems harmless enough, but a little interrogation of this character, played in laid-back style by Dylan Boxwell, will reveal a secret or two. Seamstress Carol Christie, played by Maureen Lumsdon, surely carries a pair of scissors, but would she be the type to do the deed? Daniel Davis, played with charm by Tom Edwards, is popular with the ladies - is he a wolf in sheep's clothing? Finally, dancers Naomi Norton (Rachael Coltrona) and Grace Gibson (Samantha Haliwell) seem genuinely shocked (excellent acting performances), but they had lots of opportunity and Naomi literally has blood on her hands.
The strength in this show lies in the improvisation skills of the acting team, as the audience, broken into five groups, interacts with the characters, asking them questions. The actors all know their characters inside-out and their performances are all very convincing. There are some practical problems though. Some of the performers are quite softly spoken, and the layout of the venue makes it difficult for everyone in each group to get close enough to see and hear the actors - which was disappointing for some patrons. Moving around the venue, around obstacles and uneven surfaces, can be challenging for some. For these reasons I would not recommend this show for the elderly, disabled or hard of hearing.
This is a brilliant concept and with some tweaking (and perhaps a different venue) I could see this becoming a series of shows. Congratulations Back Door Productions for bringing something new and different to FringeWorld.
Kimberley Shaw