Shrek Jr
Book and Lyrics by David Lindsay-Abaire. Music by Jeanine Tesori. Based on the DreamWorks Animation Motion Picture and the book by William Steig. Young Australian Broadway Chorus. Director: Robert Coates. Musical Director: Andy Coates. Choreographer: Jacqui Green. Union Theatre, Union House at Melbourne University, Parkville. July 12 – 15, 2017.
Having seen the film of Shrek with young grandchildren several years ago, I was pleased to take a student with young grandchildren to this production.
As I have come to expect from this company, there was a cast of thousands, with no weak links. Everyone, from quite young to late teenage, was fully involved, and it was a high energy show.
The costumes were amazing! We had all the nursery rhyme characters with amazing attention to detail.
Tristan Sicari was a grumpy Shrek. A large lad, he looked the part and had superb comic timing. Jasmine Arthur was the feisty Princess Fiona, looking lovely and singing superbly.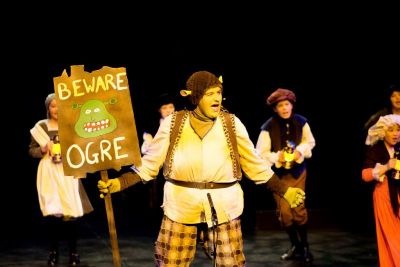 Of course, the best role was that of the motor-mouth Donkey, and Aidan Khan made the most of this. Lachlan Wolters was very funny, playing Lord Farquaad on his knees. This was another exceptional singing voice. Kristen Robertson was a convincing dragon, her strong voice easily coping with her difficult song.
The chorus singing was sometimes too strong, but exciting. The choreography was tight and the band excellent.
And the judgement of the main critics? The five-year-old: "I loved it all and I loved seeing Pinocchio's nose grow. Oh and I saw Little Red Riding Hood, Rapunzel, the Ginger-Bread Man, the wicked witch, the three pigs, and I loved it when Puss in Boots ran across the stage". The three-year-old: "I saw the dragon and the three bears". They couldn't wait to get home and tell their parents.
Graham Ford
Images: GW Photography.