Shrek the Musical
Based on the DreamWorks Animation Motion Picture and Book by William Steig. Book and lyrics by David Lindsay-Abaire. Music by Jeanine Tesori. John Frost and Glass Half Full Productions. Sydney Lyric – Opening Night – January 5, 2020. Her Majesty's Theatre, Melbourne from February 16 and Lyric Theatre, QPAC from May 9.
A wicked giggle from a young member of the audience pierced the Sydney Lyric just after Princess Fiona (Lucy Durack) had a delicious on-stage tantrum, which in turned prompted an echo of more giggles like a coo-ee in a canyon.
The young fan had obviously seen a tantrum like that before! Recognition of authentic human reactions is a key joy of live theatre, which might on face value be a challenge in a musical based on a mashup of fairy tales.
But Ben Mingay (as Shrek) and Lucy Durack's goofy acting and cheeky chemistry, was delightful to watch, and no mean feat considering that the green hulk is plastered underneath a thick mask and buried in a fat suit.
The children in the audience were having as much fun as the three little pigs in a barrel of mud, including the almost five-year-old sitting next to me, who was only slightly wriggly during the second act.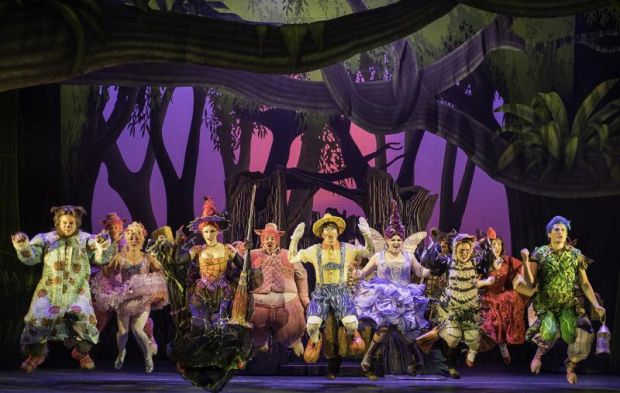 So what's in it for the grown-up musical buffs? Well, whilst Shrek is not a landmark musical in the mould of that other cartoon transformation The Lion King, its charm is the pastiche of musical styles from rhythm and blues, to ballads, dance and pop. Every now and then there are also loving tributes to classic musicals including Wicked and Les Misérables.
Close to the opening, a motley crew of evicted fairy tale characters descend on Shrek's swamp to sing Story of my Life. The ensemble in this production was razor sharp, aided by a smorgasbord of exceptional costumes.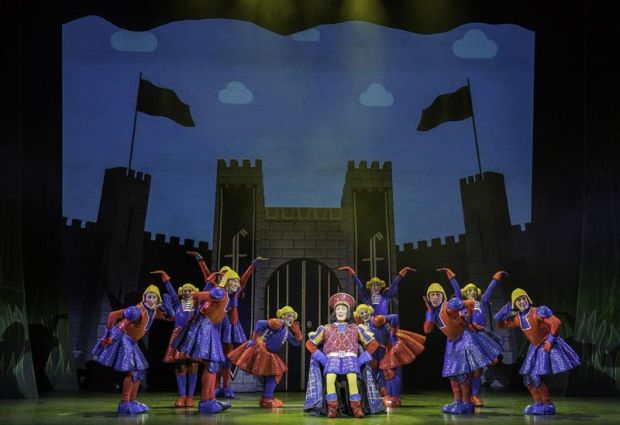 Having the most fun and stealing the limelight were the three little pigs (Joshua Robson, Ross Chisari and Tom Sharah), Pinocchio (Caleb Vines), Peter Pan (Rubin Matters) and Gingy (Manon Gunderson-Briggs).
The mellifluously accented Shrek (Mingay) and his stylish side kick Donkey (Nat Jobe) make their way to the castle of Lord Farquaad (Todd McKenney), who milked every gag possible as the diminutive ruler.
The old vaudeville trick brought both Todd and the audience to their knees. The image of him flopping around his puppet like legs is hard to forget.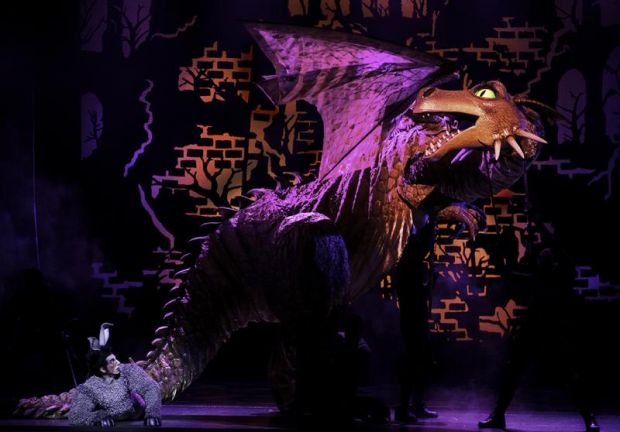 However, the show-stopper was Marcia Hines as the Dragon. An impressive large puppet swished around the stage, even beating its tail in time to the music with the help of Donkey.
We finally got to see Marcia during the bows with a stunning rendition of I'm a Believer. It brought the opening night audience to its feet and their toes tapping into the night.
David Spicer
Photographer: Brian Geach