Sick: What Doesn't Kill You Make You Stronger.
Conceived and Directed by Gavin Marshal Presented by NICA. 2019 Third Year Ensemble Show, 39-59 Green Street, Prahran. 27 November – 7 December, 2019.
The premise of this performance is a tricky one and seeing the humour in a hospital setting is not easy to achieve. The show hovers somewhere between the comedic and the macabre but more work needs to be done to strike the right balance between the two.
The circus acts and some of the clowning performed by the entire ensemble are beautifully executed and provide a great opportunity to showcase the incredible acrobatic talent. The choice to focus on a more character and narrative driven performance is a bold and interesting one, however, this gives the show a less dynamic structure which relies heavily on slapstick.
The contextualisation of the circus acts and acrobatics shows a lot of ingenuity. Georgia Webb's performance on the Roue Cyr is a great example of this as she emulates a patient undergoing an MRI scan. Clever lighting cues create a disturbing atmosphere and captures the distress of the examination well. However, many of these kinds of concepts could have been pushed further.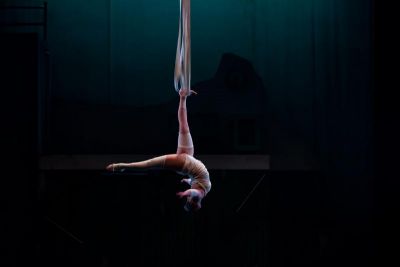 There was an intriguing and amusing suggestion of sinister subterranean events and this could have also been developed more. Chanel Phelan's manipulation of a ball is one of the highlights of the show. The simplicity and the elegance of this act was a delightful diversion from the overarching theme. Will Anton and Eric Quant on the Chinese Pole were also magnificent, leaving you with the desire to see much more emphasis on the kind of amusing scenario they evoked.
Sickhas some great fundamental ideas with some sharp-witted portrayals of the realities of hospital life. It would have been great to see these ideas explored more fully.
Patricia Di Risio