Side to One
Lisa Griffiths and Craig Bary. Space Theatre, Adelaide. 27 to 30 Jul, 2011.
It begins with the two bodies meeting and becoming one - there is a physical exploration perched high atop an illuminated light box, and then an unspoken agreement to support one another is formed. The relationship grows and moves to the floor where the two begin to dance as individuals moving in synchronisation and harmony with each other; there is an unspoken bond formed through body language and eye contact which transcends the music. The choreography re-ascends the box where it takes on a further dimension, initially supportive and then antagonistic and forceful. She breaks away from his grasp and escapes inside the light box - he follows. Inside, their relationship continues its push and pull struggle before eventually exploding back onto the stage. After moments of passion and invigoration the couple split, the physicality stops and time is spent apart to consider. The audience is forced to reflect through a sound-scape, controlled by the dancers, which is implicit of breaking up; eventually they realign atop the light box and lay down in each other's arms. Their journey is complete.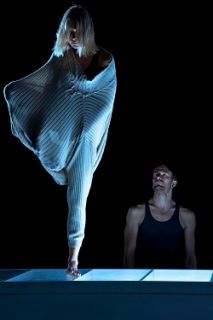 In this production, danced and choreographed by Lisa Griffiths and Craig Bary, the space remains alive and organic. The motifs weren't always clear, however the underlying narrative constantly remains true to context. Griffiths and Bary are incredible dancers; what one would expect of professionals of their calibre. If this production was staged in the Garden of Unearthly Delights we would gasp in awe at their physical strength and dexterity. But here we expect it, and so search for a deeper meaning.
Some of this 'meaning' has been provided in the program notes. How many of these decisions came before the choreography and how many were made after always intrigues me, but nonetheless contributes towards my interpretation. Wrong or right in my exhumation of meaning, I recommend you see it and decide for yourself.
This is not just a rehearsed partnership of pure choreography, but a three-way collaboration which includes live music and sound, engineered onstage by Adam Synnott. The music is as fluid as the performance, the three feeding off each other like a living organism.
Projection has been used to highlight the sound-scape. The clever design by Jason Lam looks interesting and is responsive to the music in its waves, beats and vibrations, but doesn't add anything to the performance for me. Some portions of the projection lacked context and, like two unwarranted costume changes, is more distracting than exemplifying.
All that being said, I loved it. I had to consider the work for some time to decide what I thought it all meant. To communicate my impressions was complicated, but shouldn't be a reflection on the work, rather the subjective nature of the genre itself.
Check this one out.
Paul Rodda
To keep up with the latest news and reviews, visit Stage Whispers on Facebook and click like, or follow us on Twitter.