Sir Arthur Sullivan & Friends
Music: Sir Arthur Sullivan Lyrics: Sydney Grundy, F C Burnand, Julian Sturgis, Arthur Pinero, J Comyns Carr, Basil Hood and Edward German. Gilbert and Sullivan Opera Victoria (GSOV). Director: Robert Ray. Musical Director: Geoffrey Urquhart. The Knowe, Sassafras, Victoria. February 29, March 1, 7 & 8, 2020
Gilbert and Sullivan's collaboration in the 1800's produced masterpiece's including HMS Pinafore, The Pirates of Penzance and The Mikado that have stood the test of time. Surprisingly though, Sullivan's lesser known non Savoy operettas written with other lyricists contain musical treasures of equal beauty and wit. This two hour soiree contains rarely performed songs and arias, carefully selected by the director Robert Ray and musical director and piano accompanist Geoffrey Urquhart.
The cast of 12 seasoned G&S performers entertained an intimate and appreciative audience in the beautiful gardens at The Knowe, Sassafras, Victoria. Performers included sopranos Jenny Caire, Jade Biezen, Laura Caire and Renee White, altos Andrea Tappe, Naomi Tooby and Jenny Wakefield, tenor Brett O'Meara, baritone Nick Sharman, bass baritones James Douglas, Andrew Ferguson and pianist Geoffrey Urquhart.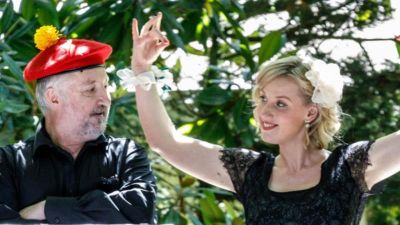 Linking dialogue shared between the cast, simple props and changes of hats transported the audience into the world of each operetta and helped us learn more about the life of Sullivan. There were many comedic highlights including "Hoity Toity, What a Kiss" (Andrew, Nick and Naomi), "'Twas a Dear Little Dormouse" (Andrea), "My Parents Were of Great Gentility" (Jenny Wakefield) and '"The Gay Hussar" (Brett). The emotional highlights of the afternoon included "He Will Return" (Jade), "Lord Of Our Chosen Race" (Renee), "Only the Night Wind Sighs Alone" (Laura), "'Neath My Lattice" (Jenny Caire), "Mine, Mine at Last!" (Laura) and "Come Away, Sighs the Fairy Voice" from The Emerald Isle (Renee & Ensemble), which had the audience in tears. What a wonderful way to spend an afternoon, not just to enjoy the superb singing and piano accompaniment, but to learn more about some rarely performed gems from yesteryear and of the brilliance that was Sir Arthur Sullivan.
Jonathan Cox
Images: Robin Halls