SIX
By Toby Marlow and Lucy Moss. Louise Withers, Michael Coppel and Linda Bewick. The Studio, Sydney Opera House. Opening Night: December 23, 2021. Then touring nationally.
SIX is a musical unlike any Tudor history lesson! Ever!
And for me, this new #MeToo take on history was even better the second time around, as the international musical hit resumed its national tour, disrupted nearly two years ago.
Reincarnating Henry VIII's six wives today as vibrant, irreverent, contemporary pop divas (conveyed by fabulous local triple threats), SIX is a constantly surprising 'her-story', seen through a 21st century lens, joyously deflating long perpetuated myths.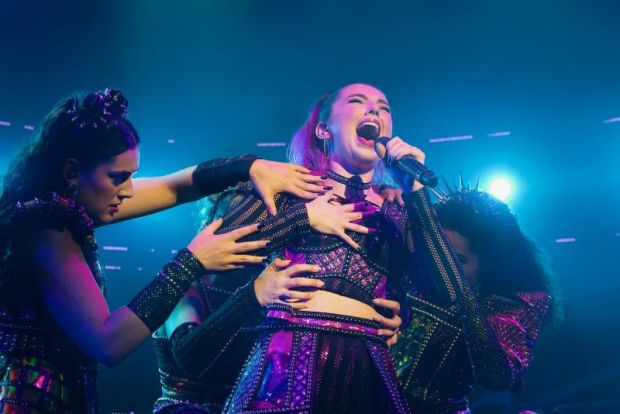 Image: Chelsea Dawson
Tired of being relegated to footnotes, clichés or stereotypes – 'the boring one', 'the promiscuous one', 'the plain one' or 'the nurse' – in 75 minute musical SIX, these women shine across the ages in their own right, the fully-formed, full-voiced highly individual stars of their own lives.
The Sydney Opera House Studio feels as much a concert arena, despite its intimacy, as a theatre, accentuated by Tim Deiling's spectacular lighting design.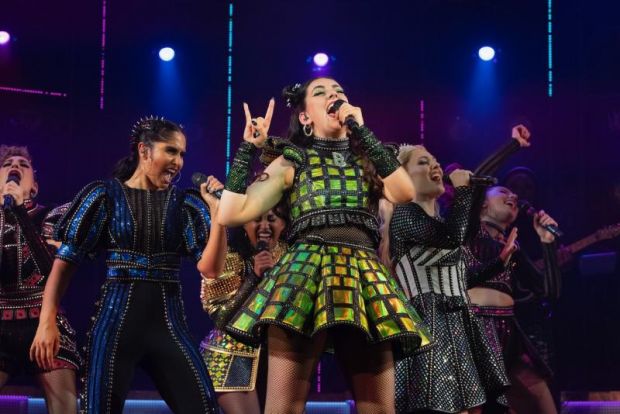 Image: Kala Gare
And a ripper of a pop-style score, inspired by the hits, concerts and video clips of modern female music stars, enhanced by Carrie-Anne Ingrouille's slick, attitude-laden choreography and Gabriella Slade's stunning costumes, combine to provide the show's voice, far removed from the crusty, dusty pages of history. It's very funny, occasionally bitchy, 75 minutes of sisterhood.
Patriarchal history has masked some particularly nasty and inconvenient truths which didn't suit the preferred narrative. Beheaded teenage fifth wife Katherine Howard, long portrayed as promiscuous thanks to the records her inquisition, feels like an abused child today, while final wife, Catherine Parr, far from being just Henry's nurse, broke ground as a published female author.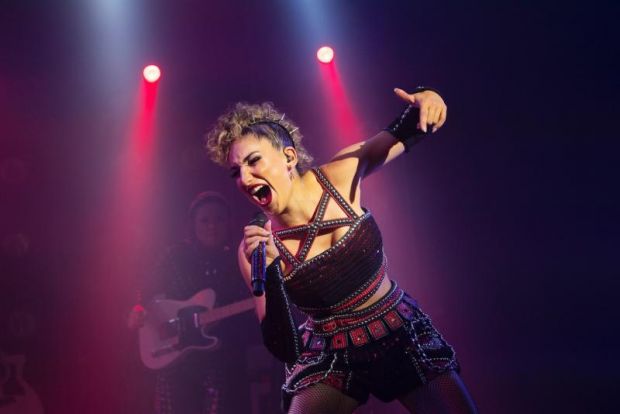 Image: Kiana Daniele.
SIX is a feminist, #MeToo version that's entertaining, celebratory and engaging. Created as a student production by then final year Cambridge University students Toby Marlow and Lucy Moss for the 2017 Edinburgh Fringe, West End producers snapped up the 75-minute festival hit. It's now on its way to becoming an international theatrical phenomenon. Having played the West End and Broadway, and toured the UK and North America. Moss is also the show's co-director, along with Jamie Armitage (the Australian Associate Director is Sharon Millerchip).
The flimsy premise - choosing the hardest-done-by wife to lead their girl group - is a nice running gag, and sure, the beheaded Anne Boleyn and Katherine Howard probably seem the most obvious choices.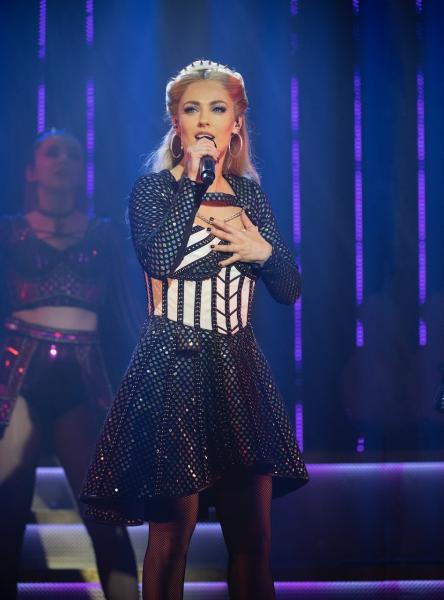 Image: Loren Hunter.
Each queen gets her own song to stake her claim, bookended by ensemble numbers, but throughout their individual stories, the remaining queens provide a stunningly harmonised girl band / backing vocals / Greek chorus.
Our talented Australian queens lose nothing by comparison with the Pop Divas who SIX also joyously celebrates.
Phoenix Jackson Mendoza's feisty Catherine of Aragon launches the challenge with her fiercely determined "No Way". Original cast member Kala Gare returns as vivacious, doomed Anne Boleyn with "Don't lose ur head". Fellow original cast member Loren Hunter repeats her sympathetic portrayal of Jane Seymour, delivering the touching ballad "Heart of Stone". Who knew Tinder dating backfired even 500 years ago - Kiana Daniele returns as the deliciously comic Anna of Cleves, happily evading Henry in the raunchy "Get Down". Chelsea Dawson's Katherine Howard moves from youthful flirtatiousness to an engulfing dark world of sexual predators in the provoking "All You Wanna Do". Vidya Makan, the self-assured Catherine Parr, delivers a powerhouse vocal on "I Don't Need Your Love".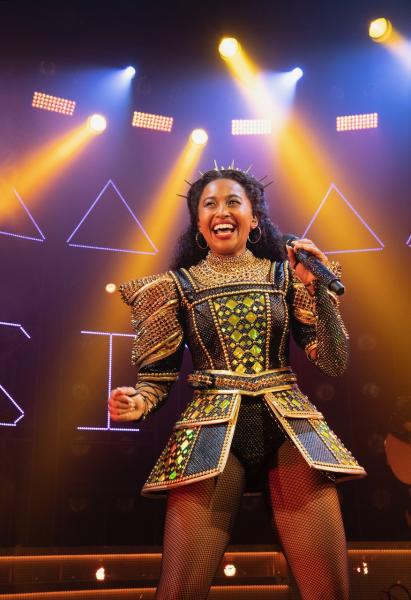 Image: Phoenix Jackson Mendoza.
In the end though, who could choose between these fabulous women, and the talented performers who portray them, as they coalesce into an empowered feminist force of nature over the course of the evening. They're brilliantly supported throughout by an all-female band comprised of musical director Claire Healy on keyboards, guitarist Debbie Yap, Jessica Dunn on bass and drummer Alysa Portelli.
SIX is a boisterously fun night of theatre. As much a six star pop concert as a musical, with even a hint of Eurovision-ish wackiness thrown in, the opening night crowd was loud and demonstrative in our arena-style appreciation.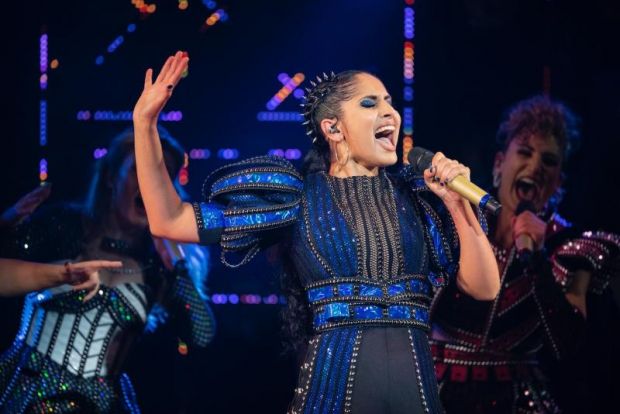 Image: Vidya Makan.
If you love musicals, it's a startlingly different one. If you're more into pop concerts, it's a great entrée to the genre.
Neil Litchfield
Photographer: James D. Morgan- Getty Images.