Six Dance Lessons in Six Weeks
By Richard Alfieri. Melville Theatre Company. Directed by Geoffrey Leeder. Melville Theatre, WA, Nov 22 - Dec 7, 2019
Melville Theatre Company's WA premiere of Six Dance Lessons in Six Weeks is a vibrant, tender and beautifully acted production, delighting its capacity audiences.
This story of an elderly widow who engages a gay man to teach her ballroom dancing features two rather cantankerous, flawed characters, who, in the hands of very gifted actors, we come to like very much, as we witness a change in their relationship to one of affection, understanding and love.
Gorgeous performances from Suzannah Churchman as Lily Harrison and Manuao TeAotonga as Michael Minetti, as they work beautifully together in this well-crafted story, which reveals their histories gradually, and allows some beautifully layered characterisation. They also dance together, with precision and style, with lovely choreography by Katie E. Williams.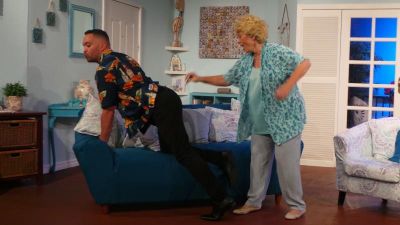 Geoffrey and Lyn Leeder's set design captures Lilly's beachside condominium very well, with lovely set dressing, with Lyn Leeder's costumes wonderful choices for these characters. Lighting design by Alexander Coutts-Smith and Kate Lloyd from Enchant Entertainment, gives a great sense of mood - including a stunning sunset. Sound design by Alexander Coutts-Smith and Geoffrey Leeder supports the production well.
I saw this production with a very vocal matinee audience, whose enchantment with this production was obvious, and deservedly so. This little feel-good production is among the best theatrical gifts of the year.
Kimberley Shaw