Six Degrees At A Hot Melbourne Market
Directed and designed by Mazz Ryan and D. B. Valentine. Studio Theatre Gasworks Arts Park, 21 Graham Street, Albert Park. 13 – 23 November, 2020
Perfectly housed in the studio space at Gasworks in Albert Park, Melbourne Writers' Theatre's current offering is perhaps a little more edgy than usual, with a dystopian flavour.
It pays homage to our wonderful Queen Victoria Market.
'Wormholes' by Alison Knight is a surprising and lively piece that acknowledges the very early days of the site on which the Queen Victoria Market stands. Knight takes us into a haunted underground space or cemetery where the present, in the person of a market worker (Emma Drysdale), meets an amazing theatrical past in the form of egocentric actor (Jonty Reason) and his assistant Scamp (Ruben Francis). Apparently the 'great actor' was killed by a critic!
A truly theatrical piece that, although slightly confusing, is very entertaining. Initially I felt the actor and his crony were English and had no place in Melbourne. However, realistically an Australian actor of the time would sound totally English. Perhaps some referencing as to where they have been working could clear up this tangle in what is to become a fully-fledged tangle in realities due to a 'trans dimensional portal'.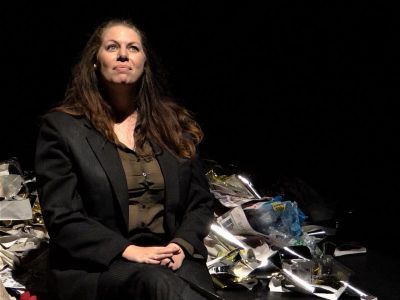 The acting is excellent all round, though the work will be even more effective when the tempo is tightened and everything moves considerably more quickly and with more intent.
Louise Hopewell's 'The Future of Organics' is particularly effective and funny due to the stunning capacity of Lennan Andrusiw to convince us that he is a robot - a charming robot with a delightful smile at that. Temperatures have blown out in the dystopian future and workers are, necessarily, being replaced by robots. Mother (Rebecca Morton) and daughter (Del Jordan), who could perhaps be considerably more heat affected, are discussing the mother's choice to employ a robot as the daughter feels is a mistake, almost an affront which seems a little petulant. Actors Morton and Jordan create a convincing mother/daughter relationship.
'Clothes are just protective coatings' by Bruce Shearer covers some interesting territory about how we use clothing to signal our state of mind. This is a somewhat slippery work. The rather hippy sales person (Faran Martin) engages with the customer (Del Jordan) with aplomb and an enthusiasm to sell. She says things like: 'Clothing is a way to attract and entrance people we would like to meet.' There seems to be an inferred same-sex attraction in this interaction that could be more fully explored. It is a little unclear as to what the work is specifically about if it is not about a burgeoning lesbian relationship. All in all it is very entertaining and reminds us of how important and enjoyable new clothes can be.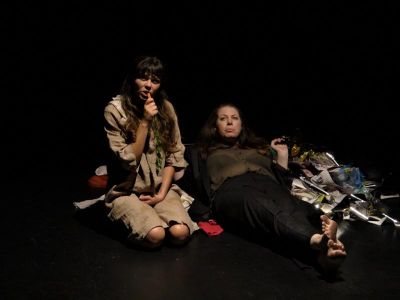 Michael Olsen pays homage to Waiting for Godot with 'Arriving Today'. It also explores the anxiety of not being ready, or organized, or tidy enough to welcome important guests into one's home / environment, though there is a sense that the two characters played by Emma Drysdale and Faran Martin could well be homeless. Faran Martin in particular uses a lovely solid 'pommy' accent. Another title for this work could be the very popular catch call of now days - 'it is what it is'.
The design and direction of the whole by Mazz Ryan and D. B. Valentine tends towards being organic and free form. A bit more rigor, a little more dramaturgy, as well as a bit more rehearsal time could refine this intriguing and enjoyable night of Writers' Theatre into an exemplary night of Writers' Theatre.
Suzanne Sandow
Photo credit: John A. Edwards