Sixty Dancers, Sixty Stories
Queensland Ballet. HOTA, Gold Coast. August 29th, 2020.
Oh, the bliss of going to see a live show once again. My heart sang with joy when I saw the audience all dressed up for something special. And special it was. The Lakeside Room of Home of the Arts was bathed in dappled light, with tables socially distanced and set with candles. There was a great air of anticipation as people waved to each other but avoided hugging and other intimacy. These are different times indeed. Nevertheless, we were HERE and we were part of a defining moment that reassured us that live performance could not be beaten down, Covid or not.
To say that Queensland Ballet has exponentially grown under the direction of Li Cunxin would be a massive understatement. It has a become a tour de force and an equal match for our national company. Li Cunxin, in charming and humble style, introduced the programme, which has evolved from their digital programme Sixty Dancers, Sixty Stories. The links to these gorgeous vignettes are still available on their website and are a must-see for ballet lovers. But back to the live performance.
The programme is basically divided into three sections all under the banner of "Love". Choreographed by dancers themselves under lockdown to be seen on film, they have been beautifully adapted for the stage.
Section One, entitled "Where is Love" captured the quest - the search for love which can be so elusive for all of us. Mia Heathcote is stunning as she opens the evening, but it is the male dancers who shine. There's real passion and emotion in every short piece but the work by Isaak McLean, entitled Entwine, and Real Love with Shaun Curtis, were exemplary, and Lachlan Mair was equally impressive in 11W. Ending this section was Eros, choreographed by Liam Geck for John Paul Lowe, a glorious display of male strength and passion worthy of any stage, anywhere.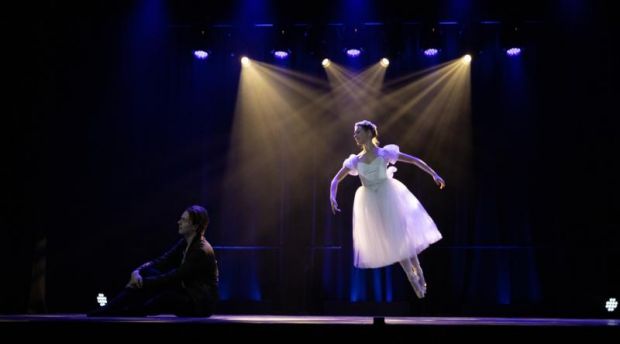 The entire act was directed by Rani Luther, who had the unenviable task of adapting the works for the stage.
There is a lighter note in section two "Looking for Love". It features the actual courtship phase of love with delicious wit and whimsical tone and there were a lot of moments when we all laughed aloud at the joyful comic offerings. Callum Mackie brings his athletic dancing and natural humour to the whole act with a sense of comic earnestness that any lovesick young man will recognise. There's an ease and fluidity to his dancing which is very appealing. As the four would be girlfriends, Bronte Kielly-Coleman, Brianna McAllen, Alyssa Kelty and Talia Fidra are all sheer delight. Beautifully turned out, marvellously adolescent in tone, they would all be a credit to any ballet company.
But it's the wonderfully wacky Cy Gents that will stay in the memory. To see four strong male dancers (Ari Thompson, Callum Mackie, Daniel Kempson and Lewis Formby) perform the dance of the cygnets ( Act 2 Swan Lake) to impress potential girlfriends, in perfect unison (something the Australian Ballet has a problem with) without sacrificing their masculinity, impressed and delighted the audience.
Congratulations to Director Matthew Lawrence for realising all the joy and humour and pulling it together in a way which left us salivating for more.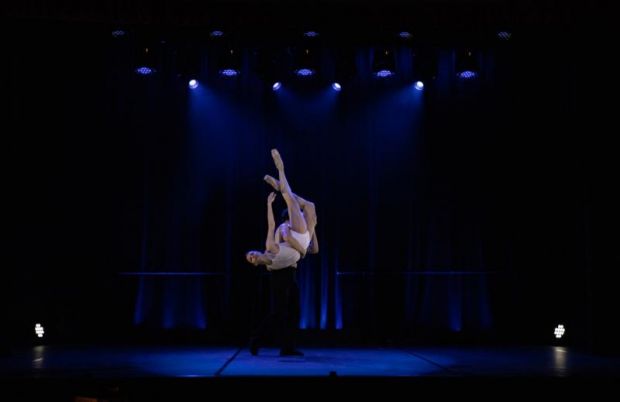 Greg Horsman had a somewhat easier task directing the third section, "In Love", a selection of exquisite pas de deuxs. The highlight was undoubtedly Caricias, choreographed and danced by Yanela Pinera and Camilo Ramos. You could feel the passion and intensity between the dancers.
It would be remiss of me not to acknowledge the extraordinary accompaniment on solo piano (with the addition of accordion, of all things, for the final piece. While the brunt of the workload was carried by Roger Cui, there were also great contributions from Stefanie Gumienik on piano and accordion, and Brett Sturdy (piano). All three were exemplary.
To cap off this evening of delights, HOTA supplied a superb supper. Filet Mignon with bacon and potato croquettes and fresh vegetables. Almost as good as the exquisite dancing itself. What a way to bring back theatre.
Coral Drouyn
Photographer: Tamara Hanton