Small Odysseys
By rawcas. Arts House, Meat Market (Vic). 13 – 23 July 2011
Small Odysseys by rawcus is a rich well-crafted work that uses fantastic resources, beautifully, to meld a poignant and haunting experience. Loosely based on The Odyssey it ebbs and flows and certainly depicts journeying, particularly on water.
rawcus is a group of performers with and without disabilities whose work is lead and nurtured by Kate Sulan.
Small Odysseys starts with a person sitting in a room, and, along with being asked to clear our minds, we are treated to a list of thoughtful and silly platitudes. Then everything changes and a troupe of performer/creators wend - as individuals, in small groups and all together with and without aspects of set – through a sixty minute theatrical voyage.
Evocative and whimsical images brought together in the vast space of the Old Meat Market through a collaborative effort of design (Emily Barrie and Shaun Patten), light design (Richard Vibre) and sound design (Jethro Woodward) present and underscore the intrinsically human experiences of isolation, disengagement and belonging. Interpretation hinges on perspective both literally and figuratively.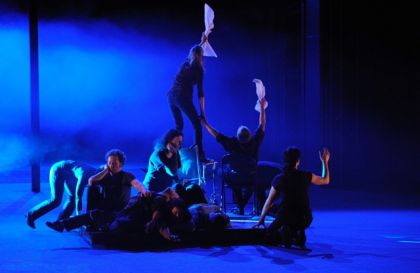 As audience, one can very satisfyingly drift along with the images presented to find resonances throughout. A self-interrogation of sorts is suggested as the lights are turned onto the audience more than once.
The whole is underpinned with the essence of sincerity, sensitivity and awareness of individual proclivities. It contains moments of pure humour. However, what pervades is a sense of separateness and isolation, despite the final image being one of comfort and togetherness.
In all it is a notably enriching experience.
Footnote - This work and way of working prompts thoughts about what it is to be a performer and the experience of performing feels like. In group-devised work, at what point does the performer take responsibility for their-own work and experience? Is it the expression of words and movement that is important or that which is behind the expression of a movement or the speaking of words? And most importantly how significant is the quality of the of the development and rehearsal process in relation to the professionalism of the actual presentation?
Suzanne Sandow
To keep up with the latest news and reviews at Stage Whispers, click here to like us on Facebook, or follow us on Twitter.