Snow on Mars
Theatre of Image. By Richard Tulloch. Music by Peter Kennard. Director: Gale Edwards. York Theatre, Seymour Centre (NSW) January 7 – 16, 2011.
Theatre of Image, under the leadership of Kim Carpenter, has the knack of producing beautiful looking productions which appeal to many senses in both adults and children.
Snow on Mars, which combines circus acrobatics, digital animation, choreography, music and video, is probably the company's most ambitious production to date.
As per the company's high standards, it was very attractive to look at, but I felt the combination of so many ingredients slightly overwhelmed the story.
The central character is 12-year-old Waylon. He idolizes Australian astronaut Andy Thomas (played by the dashing Tom Burlinson) and thinks he is corresponding with him via email, and in his imagination sees him appear by video.
Without a mother Waylon travels the country with his father, who is trying to make it as a country music star.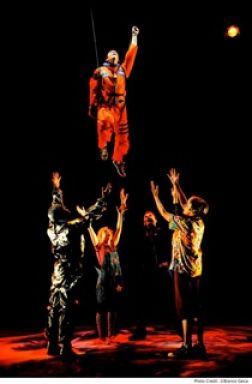 Rick Everett as Waylon was well equipped for the physical theatre aspects of the production but on 'opening' night had not quite convinced me that he had settled into the character.
By contrast Deborah Kennedy, who was warm and witty as his Nan, was the show stealer.
Snow on Mars most engaged the audience not when its special effects were taking off but when it used simpler traditional methods of story telling.
Explaining how astronauts go to the toilet on a rocket ship was amusing.
Seeing the basic physical challenge of aiming a rocket to land on a planet in seven months, with one actor holding the rocket and another holding the moving planet, was simple but clever.
And when the cast came into the audience, again no special effects were used, but it gave the production a big lift.
So overall, while the Snow on Mars didn't quite blast off, there was plenty of fuel in the engine to stimulate the audience.
David Spicer
Image: Theatre of Image's Snow On Mars Rick Everett as Waylon and Theatre of Image's Snow On Mars entire cast. Photographer: Branco Gaica.