Song Contest. The Almost Eurovision Experience
By Glynn Nicholas and Bev Killick. Primadonna Productions. Directed by Carole Dhu. The Fish Trap Theatre, Mandurah Performing Arts Centre, WA. Mar 6-8, 2020
Primadonna Productions' Song Contest. The Almost Eurovision Experience starts in the foyer, with lovely 'European' people welcoming the audience to Minsk in Belarus, presenting them with "clackers" ("Is gift from Belarus government to you", assigning you to a country and lending you a flag to wave. The atmosphere is joyous - which continues into the production.
A sequel (of sorts) to Eurobeat, presented by director Carole Dhu some years ago, we are once again taken to the Eurovision Song Contest, with an over the top hostess, lots of Eurovision cliches, desperate to win contestants and lots of audience involvement. The audience really vote, now using an app on your phone, to determine a different winner at every performance.
The Belarusian Minister for Tourism and Poultry, a lovely cameo by the director, welcomes us to the show and we enjoy a rousing parade of countries and opening number. We are introduced to Belarusian mega-star Bettina Bitjakokov, played superbly, and with outstanding improvisation, by Sian Dhu. She works the audience beautifully, keeps the production at a rollicking pace, and abuses her assistant host, the sweet, awkward and fan-girling Katarina Vogbogalov, played with lovely timing and good grace by Gemma Little.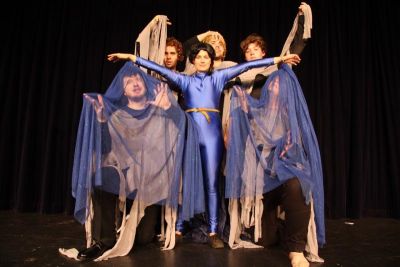 A twenty strong ensemble play eleven different entries. The quality of both the songs and performances isn't uniform, but that is part of the fun, as is spotting actors as they pop up as different characters, in a variety of wigs, in a variety of numbers. The audience vote for their favourites before they go to interval before returning for the results in Act 2 (some beautifully improvised 'live crosses'), before a reprise of the winning entry - Italy's "Nothing More Beautiful" (performed by Vinny Moore with Alexander Cooke and Ashleigh Riley) on Opening Night.
The items and voting procedure are supported by some top notch projections by Sian Dhu and Matthew Wake, with a plethora of colourful costumes. Clearly no expense has been spared because precious toilet rolls were strewn across the stage.
A fun, vibrant production that touched the hearts of its audience, and was obviously loved by both audience and the performers.
Kimberley Shaw