Songs of Hope & Healing
Featuring Mahalia Barnes. Concert Hall, Queensland Performing Arts Centre (QPAC), Brisbane. 7June 2022
Now, that's how to fill a Concert Hall! Wow! Songs of Hope & Healing was a benefit concert for the charity, HEAL, which supports young people from refugee backgrounds, and the talent showcased was astounding. After a warm welcome to country by Gaja Kerry Charlton, the opening number set the tone for the 90-minute show to follow with the beautiful Bill Withers song, 'Lovely Day' sung by the QPAC Chamber Choir, with Tina Liu accompanying, led by Choir Master Timothy Sherlock. What a treat to hear that piece sung by more than 20 voices.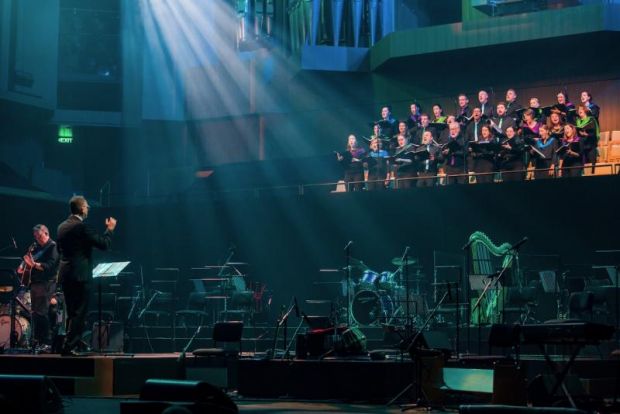 Human rights advocate Mariam Veiszadeh, our MC for the evening, introduced one brilliant act after another. To start, Mahalia Barnes and the house band (Franco Raggat on guitar, Jamie Clark on guitar, Brendan St Ledger on keys, and Aaron Jansz on drums) powered through 'I am Woman' – I have only heard Mahalia as a back-up singer before but after this show I will definitely be seeking out her solo gigs. What a voice! Her jazz and blues infused influences are apparent but it's her rock roots that help to get the auditorium moving (her Dad is rocker Jimmy). This generous headliner topped and tailed the show and it really worked for the benefit gig format.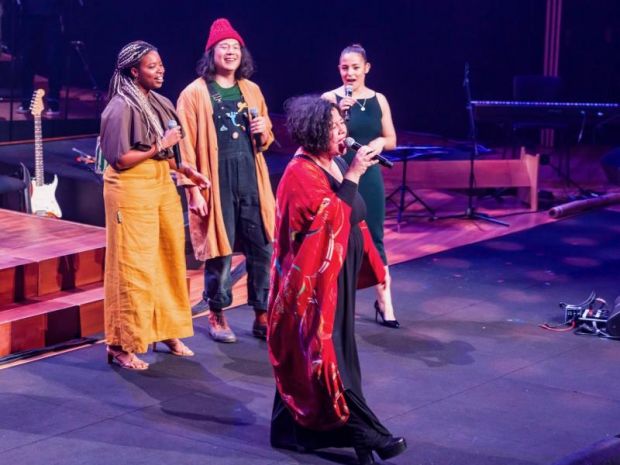 The mix of musical performers that followed were a brilliant showcase of the diverse talent on our doorstep, with local ensemble JADE, featuring the Spanish guitar of Anthony Garcia, Japanese koto master Takako Haggarty Nishibori, Nepalese tabla by Dheeraj Shrestha and didgeridoo by David Williams. I love their piece 'Fishbowl', composed in the QPAC rehearsal studio; it was ambient but funky and the unusual mix of instruments just works.
Matt Hsu's 20-piece Obscure Orchestra features Tenzin Choegyal our Queensland-based singer-songwriter from Tibet, alongside a star-studded cast of professional and amateur musicians and singers from diverse backgrounds playing traditional and DIY music-makers, including my Grandpa's old instrument of choice – the musical saw. Their songs 'Welcome to the Neighbourhood' and 'Make Everything' sum up their musical manifesto: inclusion is key. Such an uplifting group – where do I sign up?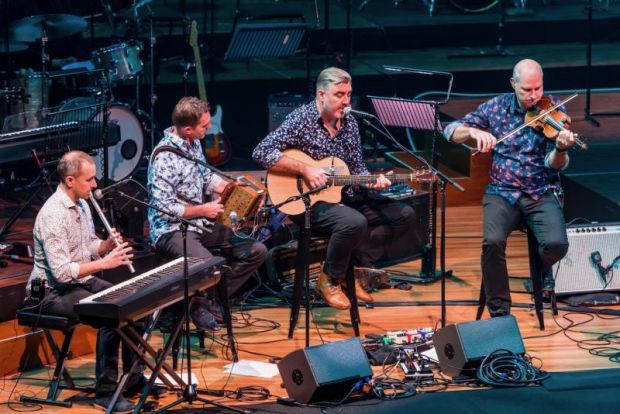 Sásta added some folk flavour with their Irish roots music – and if your toes weren't tapping after their two numbers, you'd better check your pulse.
Deline Briscoe took us for a tour through her Grandparents' history in 'Sweet Frangipani', a wonderful song that uses flowers, fruits, smells and tastes as emblems of memory. As well as having a sweet yet strong voice, Deline plays guitar as was backed by two wonderful percussionists. A simple yet powerfully poetic arrangement.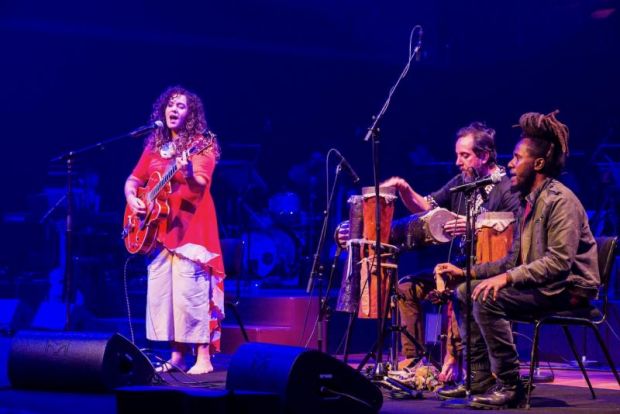 Highlighting HEAL's important work using expressive therapies with young people who have been through refugee trauma, one of their young participants, Omal, told us her own story. It was very moving, but her sense of humour shone through and I'm sure it won't be the last stage that Omal takes to. She is a natural, warm and engaging performer.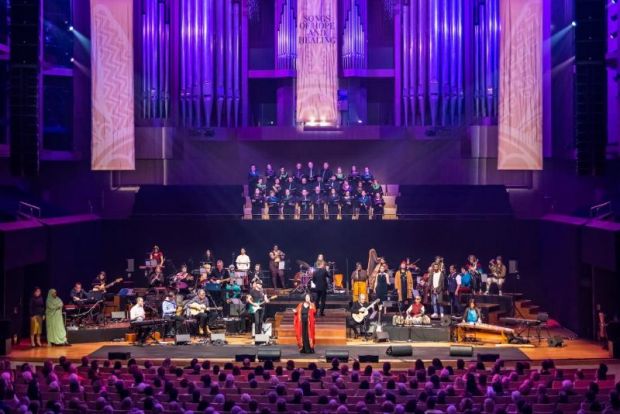 The inspiring evening closed with more from the fabulous QPAC Chamber Choir and then all the performers backing Mahalia as she returned to the stage to sing her own composition 'Little Light' and show-stopping jazz/blues infused renditions of 'You Are My Sunshine' and 'Bridge Over Troubled Water'. Directed by Sean Mee with Musical Direction by Helen Russell, this benefit concert was a true showcase of the heart and soul of diverse communities and the strength in sharing stories through song and music.
Beth Keehn
Photographer: Darren Thomas