Songs for a New World
Music and Lyrics by Jason Robert Brown. Wyong Musical Theatre Company. The Grove Theatre. April 9th to 17th 2021.
It's almost become cliché, but we live in a new world, so it's extremely apt that Wyong Musical Theatre Company has staged this superb piece of theatre as their first show post-pandemic. And what a triumph it is!
Songs for a New World falls somewhere between 'song cycle' and abstract musical. Jason Robert Brown's first major Off-Broadway work, pre-dates his other popular musicals such as Parade, 13 and The Last Five Years. But this is a musical often overlooked by community producers due to its limited cast size and lack of tangible plot. Featuring 16 musical numbers with a recurring theme of "one moment", seasoned musical theatre fans will be able to play spot the melody of works that came later in Brown's career.
From the moment this reviewer entered the venue, something seemed different. The energy felt fresh and renewed. A two-piece band was tucked in a corner, with a simple black set draped in costumes and props. It felt truly contemporary.
PJ Willis as Man 2 gives a rounded and polished performance that provides a solid foundation for the production. Issac Ledingham has the most diverse spread of characters with Man 1, finding the heart in each of them. His delivery of Flying Home is magnificently devastating.
Sancia West, last seen in lycra and go-go boots as Donna in Mamma Mia!, commands the stage as Woman 2; her vocals never falter or fail to delight. While the odd song out, she milks Surabaya Santa for every comical gem.
Sophie Booth plays Woman 1; she is by far the standout of this production. Her subtlty, gentleness and grace ties the show together. Her performance is purely elegant. It's rare you see an emerging performer on stage and sit in silence and truly think – "I think I am witnessing the debut of one the next big names in theatre."
Director Daniel Craig, aided by Assistant Director Zoe Thomson, has done an exceptional job crafting this gorgeous piece of theatre. They've brought together a team that's worked towards a singular and spectacular vision.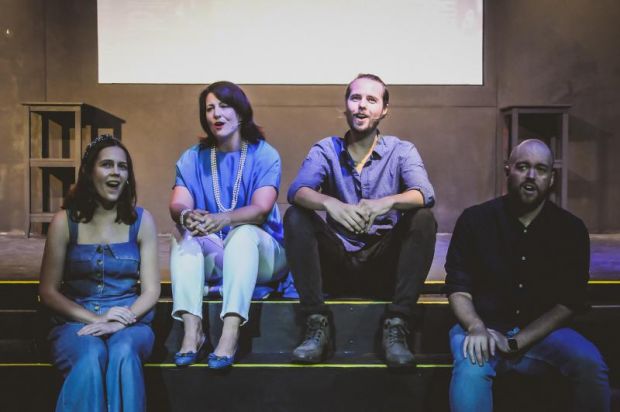 Kimberly Gilbert makes light work of Brown's complex score, along with Vivienne McLaren's stunning vocal work. The company gives life to every single note. The harmonies are phenomenal.
Theatre doesn't always have to have a message, but it's clear Craig and Thomson have seen this work's ability to translate and transcend across many political moments and movements. They've found ways to make the show relatable, with beautiful tributes to asylum seekers and the #hometobilo family, as well as to the 1978 Oxford Street riots, anD the very recent March for Justice.
Songs for a New World is a new beginning for Wyong Musical Theatre Company. It's set the bar high for the coming years. It's not be missed – seriously – don't miss this show. It's extraordinary.
Joshua Maxwell