Songs for Nobodies
Book by Joanna Murray-Smith. Songs by various. Directed by Simon Phillips. Duet Productions. Arts Centre Melbourne, Fairfax Studio, 18 December 2019 – 5 January 2020 and Sydney Opera House, 23 January – 9 February, 2020
Five 'nobodies' – a New York 'powder room' attendant, an usher, a rookie journalist, a woman telling her father's wartime story, and a waitress on Onassis' yacht – each of them has an unforgettable encounter with a famous 20th century singer – Judy Garland, Patsy Cline, Billy Holiday, Edith Piaf and Maria Callas. This is no 'jukebox musical' as some have too easily said. There is a 'thematic' structure here that holds these five encounters together and that theme is sadness. 'Happiness' is fleeting, so fleeting that we may not even recognise that that's what it was until it's over… Right off the bat, Beatrice, the powder room attendant (in a voice very like Judy Holliday's) tells us:
"In this country [the USA], people are always talkin' about dreams. You can be your dream. You can have your dream. You can live the dream. But that's just a clever way of gettin' people to shut up and stop complainin'."
Alone on stage for ninety minutes, Bernadette Robinson plays all these characters – flawlessly – the 'nobodies' and these iconic artists - and sings quintessential songs of each of these famous women. The hairstyle is unmistakeable 1940s, the black 'costume' suit is beautifully cut – so perfectly beautiful it could be an Alaia. Hair and wardrobe don't change; they don't have to. It's the face, the detail, the posture, the props (appropriate drinks for each character) and, above all, the voices that do the work.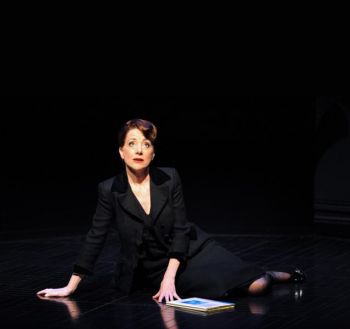 But Ms Robinson goes beyond mere mimicry. With each of these singers she impersonates – or recreates – on stage, she finds that special quality of melancholy that distinguishes each of them. The singers' voices are immediately recognisable and yet not quite perfectimitations. Rather what Bernadette Robinson does is to subtly isolate and show to us just why these artists touched some inner, private place in each of us – and made a sort of bond between the ordinary and the extraordinary. With Judy Garland for instance, she brings out that ever-so-slight quaver of pathos. Here the song is 'Come Rain or Shine', but the underlying sense of wounded yearning is the same in 'Over the Rainbow', or 'Have Yourself a Merry Little Christmas'. Patsy Cline's 'Crazy' is just plain ol' hurt. Maligned and abused Billy Holiday sings 'Ain't Nobody's Business If I Do'. When Edith Piaf belts out that she regrets nothing, it's a defiant defence of someone who has plenty to regret. And betrayed Maria Callas cuts to the heart.
Then there are the 'nobodies', each a very different character and of a different time and milieu, united primarily in being 'ordinary' but resilient and their 'brush with fame' being entirely coincidental, but credible. But while we may marvel at Ms Robinson's amazing transformations, great credit must also go to Joanna Murray-Smith's writing.
In the creation of these nobodies and in the invented dialogue of the famous, meticulous research – and imagination - has yielded telling detail of time, place, milieu and attitude. Everything seems effortlessly true and achieved with superb economy. When the nobody tells the story of how Edith Piaf helped the woman's father escape from a WWII prison camp, for example, the details are precisely chosen, and we feel a rush as the camp's gates open and the narrator's father is free.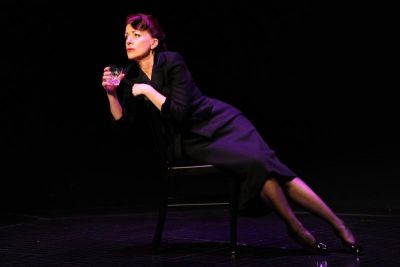 The Musical Director is Ian McDonald, who has done the arrangements and plays piano and keyboard. Assisted only by Lachlan Davidson on reeds and bass guitar, and John Clark on percussion, the music is absolutely appropriate to each 'number', from the romantic 1940s to the plangent Country & Western to smoky jazz of Billy Holiday's 'Ain't Nobody's Business If I Do', and – astonishingly – the operatic depth of Callas' aria that is the climax of this show.
Director Simon Phillips originally commissioned Ms Murray-Smith to write the show around Ms Robinson's great talents. Now – as with the original production ten years ago and in London's West End – Mr Phillips keeps thing briskly but unhurriedly moving along, ensuring smooth transitions and allowing room for the emotions Ms Robinson evokes in the audience. (For me, it was Piaf that brought on the lump in the throat.) Nicolas Reich's sound design is subtle – just enough 'atmosphere' to provide context and credibility. Justin Nardella's set is all in black and very simple, providing no more than some shelves and drawers for props and somewhere to sit now and then. Malcolm Rippeth's brilliant lighting design achieves everything from an intimate, shadowy moment to the glare of lonely exposure on stage.
Here is a well-deserved revival, which is much more than a mere vehicle for Bernadette Robinson – amazing, moving and thrilling as she is – or a piece of calculated nostalgia. Joanna Murray-Smith's writing pulls it all together and she is not just insightful but generous to the nobodies and the somebodies alike.
Michael Brindley