Songs Not To Dance To
FORM Dance Projects. Lennox Theatre, Riverside, Parramatta. March 5 – 7, 2015
Audiences unversed in the possibilities of contemporary dance may find this performance challenging to watch and understand – but dancers and choreographers will see the creative realisation of a difficult challenge.
Performers Martin del Amo and Charles Blackman certainly made sure the music they chose to undertake the challenge was very different! From long, strumming, almost discordant guitar solos to Jimmy Barnes' Working Class Man, the multiple pieces of music in their performance really stretched the possibilities of creative movement.
Accepting that limitation, much of the program is based on stillness and restricted movement, a concept that is normally outside a dancer's comfort zone. As well, because they were unfamiliar with each other's work, they opted to explore notions such as "compatability/incompatability, connection/disconnection and congruity/incongruity" as they collaborated on the possibilities of the strange collection of music.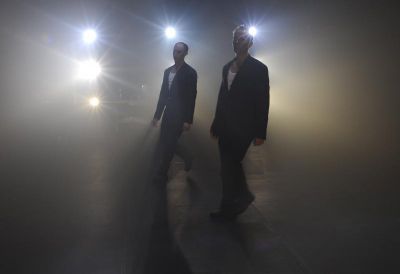 As a result, there is a repeated theme in the many of the pieces of moving together yet apart, often in concentric patterns, some very small and restricted, others wider and much faster. These patterns are repetitive and long, as are some of the tracks of music. It is easy to see why they are "not to dance to"!
In other pieces, the humour of the choices (for example Whitney Houston's I Will Always Love You")is accentuated in choreography that is more satiric. This breaks the tension established in the audience by the more esoteric "stillness" of the other segments, which are punctuated by minor costume changes that are used to establish some theatricality.
Both del Amo and Blackman are established creative artists with a string of choreographic, performance and teaching credits in Sydney and northern NSW respectively. This work reflects their creative imagination in a way that will be especially interesting for dance aficionados – though perhaps a little puzzling for a wider audience.
Carol Wimmer
Photo credit: Heidrun Lohr