The Sorcerer
By Gilbert and Sullivan. Gilbert and Sullivan Society of WA. Directed by Paul Treasure. Dolphin Theatre, University of Western Australia, Nedlands, WA. Oct 14-23, 2021
The Sorcerer, Gilbert and Sullivan's early full-length collaboration, is one of the less frequently performed G&S shows, and is currently being performed by the Gilbert and Sullivan Society of WA, to capacity audiences.
A delightful little tale of a town whose attitude to love is tested by a sorcerer's potion, it is a show that displays signs of this writing partnership's later brilliance, and while the writing team were yet to really hit their strides, this production is beautifully performed, with an abundance of little director's touches that make it a joy to watch.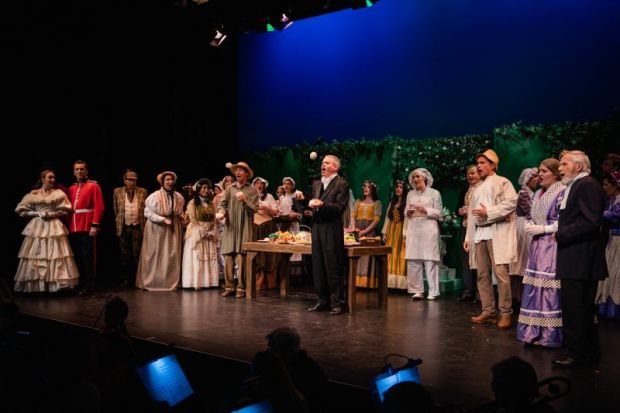 As we expect from this company, it is musically strong, under the musical direction of Isaac Wesson, with excellent vocal performances and an excellent orchestra.
The Sorcerer is also strong visually, with a simple but elegant single set designed by Barry Boyd, sensitively lit by lighting designer Rhys Pottinger. Costumes are lovely, evoking the era and the social standing of the characters nicely, under the leadership of wardrobe mistresses Veronica Hudson and Gail Reading.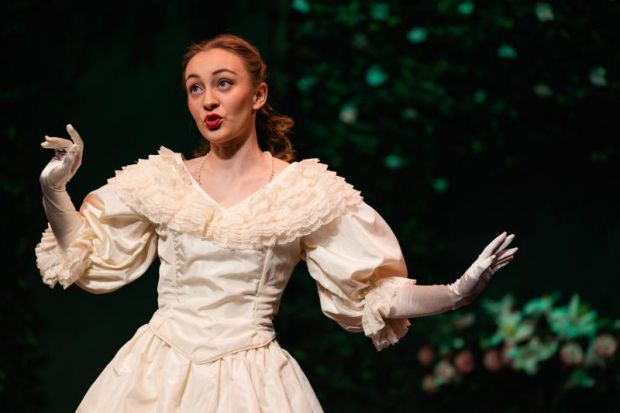 The performances are strong, with some excellent characterisations throughout, including from members of the chorus. A show that is very aware of social divisions (the sorcerer's potion makes people fall in love across these and other lines), there is beautiful establishment of 'class'.
Central character Aline, a beautiful young heiress, is played with grace and charm and gorgeous voice by Emily Schinkel. Her fiancé Alexis is expertly played by Chad Henderson, perhaps my favourite performance of his to date, and perfect for his lovely military bearing. The Sorcerer, John Wellington Wells, is played with wonderful personality and comic timing by Mark Thompson.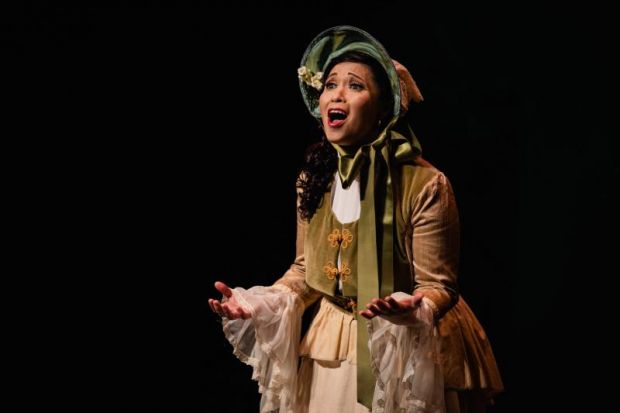 Our central couple's parents are played with beautiful sophistication, with Max Page OAM, inhabiting Sir Marmaduke Pointdextre with lovely fluster and Claire Laine aging up beautifully as the elegant Lady Sangazure. Avalon Rector brings great fun to the pushy Mrs Partlett, with Liza Cobb very sweet as her daughter, with a liking for older men. Robrecht Herfkens is an audience favourite as local Rector Dr. Daly, who feels unlucky in love, with Terry Hanavan funny as the elderly and hard-of-hearing Notary.
The Sorcerer is a wonderful way for the Gilbert and Sullivan Society of WA to celebrate their 70th Anniversary. A top quality production that will be new to many fans and regular theatre-goers, The Sorcerer casts a spell on its audience.
Kimberley Shaw