In a Soulful Mood
The Julia Messenger Quintet. The Melbourne Recital Centre and Brunswick Industry, as part of the Mood Indigo Series. Saturday October 17, 2015.
In the rarefied environment of the 'acoustically rich'Salon at the Recital Centre, honoring some of the great women of Jazz and Cabaret, Julia Messenger entranced and delighted her audience. What a treat it was to listen to Ms. Messenger's carefully managed voice surfing effortlessly on, in and around the glorious musical accompaniment of Mark Fitzgibbon on piano, James Sherlock playing guitar, Ben Robertson on double bass and Darryn Faruggia, who's playing I was really taken by, on drums.
With disarming openness and sincerity Ms. Messenger chatted about the origins of most numbers before they were launched into, thus underpinning the richness and complexity of the performance. For example she talked of Bill Robinson who danced with Shirley Temple, and was ultimately immortalized in the song 'Mr. Bojangles' and then the work was played featuring a piano solo by Mark Fitzgibbon.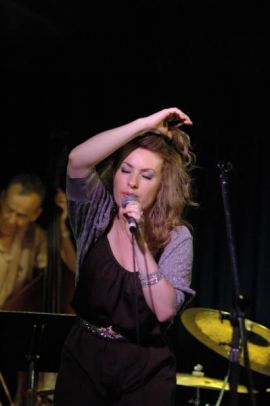 Since Sunday I have been catching myself singing and humming 'Miss Otis Regrets'. Not surprisingly as 'Miss Otis Regrets' featured just voice and the wonderful piano of Fitzgibbon. This song, with all its irony, was certainly one of the highlights for me.
I also particularly enjoyed the moments when Messenger launched into German ('Falling in Love Again') and French ('‪Non Je Ne Regrette Rien')asanother dimension was added and any lingering self-consciousness seemed to drop away. This left me wondering how Ms. Messenger would fare if she was to assume the character of a particular songstress for a cabaret show.
The four instrumentalists seemingly effortlessly supported and honored each other and their solos wowed the audience. Of the sixteen beautifully rendered works about half are very well know and the other half I was delighted to be introduced to in such an entrancing way. Songs such as the haunting 'I Can't Make You Love Me', that was make famous by Bonnie Raitt was featured with a guitar melody and double bass solo, 'Compared to What' a Roberta Flack song was given a guitar solo, 'Fine and Mellow' written by Billie Holiday was also given a fabulous guitar solo.
Writing this has left me thinking how excellent it would be to hear a show where songs that were written by women were the only ones featured.
Keep an eye out for Julia Messenger because hopefully she will be bringing us more such delightful afternoons and evenings in the not to distant future.
Suzanne Sandow