Souvenir
Written by Stephen Temperley. Directed by Peter J Adams. Chapel off Chapel. February 20th - March 10th, 2013.
Who would have thought that a two handed play about the platonic love shared by the worlds WORST Soprano, Florence Foster Jenkins, who was hilariously bad, and her gay accompanist, would prove to be poignant and moving as well as genuinely funny?
Souvenir starts in 1964 and then moves back in time to when a young pianist with the unlikely name of Cosme McMoon, meets a wealthy society matron who is convinced she is one of the world's greatest sopranos. Her friends go along with this misconception because they care about her and because her musical soirees raise huge amounts of money for charity. Madame Flo was so bad she was good and people paid scalpers prices for tickets to her recital. Her career culminated at Carnegie Hall in 1944 when she was 76, and though people laughed out loud and had to stuff hankies (clean I hope) into their mouths. She died a month later having fulfilled her dream.
Helen Noonan makes Madame Flo an endearing and enthusiastic diva whom we want to succeed. She's charming and funny and so full of love for the music that one doesn't even think that she is either delusional or arrogant about her (lack of) ability. For a trained singer with a beautiful operatic voice, it must be so hard to sustain the awful tuneless caterwauling of Madame Flo for two hours, but she is totally convincing. She describes herself as "an actress who sings" and her acting is as exemplary as her singing is horrific. She also has superb comic timing. It's a wonderful performance.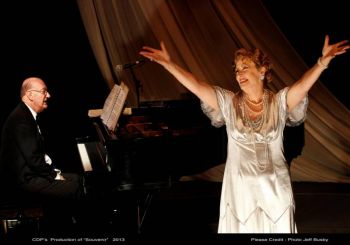 Stephen McIntyre (Cosme McMoon) is one of our finest musicians with a sublime touch on piano, but he isn't an actor and the part requires one. There are lines and nuances which really DO cry out for someone with more dramatic finesse. Peter J Adams as director makes the most of what the script and budget allow, but the costumes really do need a re-think before the Sydney season. This was a VERY wealthy woman. Constant redressing of the pearl satin gown just doesn't work. And where is the sublime white frock from the poster?
Stephen Temperley's script works for an act and a half before failing in the last 15 minutes, which is virtually an encapsulated Carnegie Hall concert. …One bad song after another in silly costumes when we already "get the point" from the first 1 ¾ hours. It's nowhere near as good a play as Peter Quilter's Glorious which is also about the same subject. And one does have to wonder if there is a place in theatre for TWO plays about a woman who sang out of tune.
This is still a pleasing piece of entertainment, full of laughs and even some tears. That's thanks to Ms Noonan's fabulous performance and the rapport she has with her Cosme. It's an enjoyable but not spectacular evening.
Coral Drouyn