Souvenires De Aranjuez
Debussy – Preludes, de Murcia, Medarra - The Spanish Baroque, Nicolas – Secrets, Ravel – Piano Concerto in G Major M.83, Rodrigo – Concieto de Aranjuez. Southern Cross Soloists. Concert Hall, QPAC. 21 Feb 2021
The sound of castanets, flamenco dancing, and bull fights were frequently conjured up in this classical chamber concert headed by guitar soloist Slava Grigoyan. Cancelled in 2020 because of Covid restrictions, this Southern Cross Soloists concert has been a long time coming, but it was worth the wait.
Opening with two seventeenth century pieces by Santiago de Murcia, Fandango desde el Codice Saldiver and Taranteles, both arranged by composer in residence, John Rotar, with a fifteenth century piece, Fantasia No.1, by Alonso Mudarra, sandwiched in between, they gave Grigoyan a multitude of opportunities to display his incredible guitar virtuosity. Superb fingering, deep understanding, and authenticity were to the fore, as they were in the closing, the universally loved guitar concerto, Concieto de Aranjuez, by Joaquin Rodrigo. Tania Fraser captured the alluring beauty of the Adagio on cor-anglais, before handing the tune over to Grigoryan whose passionate reading enhanced the familiar melody.
Alex Raineri at the piano, and violinist Alan Smith were an intoxicating double act with a trio of Debussy's Preludes that included a Spanish flamenco sequence that permeated, The Gate of Wine.
The original work on the program was a piece called Secrets by the young, talented Sydney composer Natalie Nicolas. She claimed the work blurred the genre lines between classical musical and popular and folk music. If the latter influences were present then I'd have to say she kept them well hidden, almost a secret. But maybe that was the point of it all.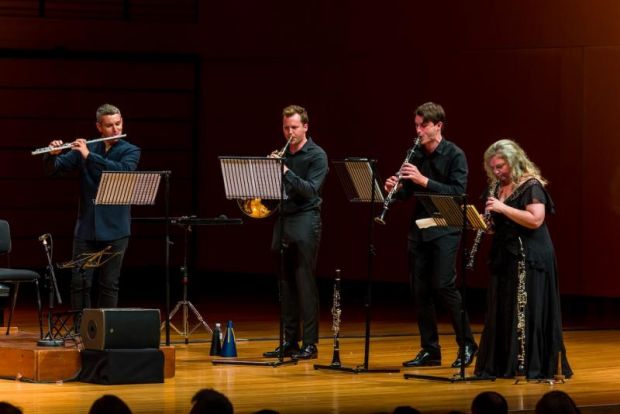 Although Grigoyan headlined the concert, I'd have to say Raineri was up there with him in the virtuoso stakes. His piano work on Ravel's Piano Concerto in G Major was a tour-de-force. His expressive trills and virtuoso passages brought irrepressible joy. It was a Herculean performance of this Gershwin-esque work that Ravel wrote as a homage to Gershwin after they met in New York in 1928 on Ravel's one and only visit to America, where they formed a mutual admiration society. The work is awash with jazz idioms, and in fact there is the briefest flicker of Rhapsody In Blue's 'ritornello' theme in it, but then there are also Basque and Spanish melodies and Mozart and Saint-Saens are also present.
The SXS had some changes to their line-up - because of Covid restrictions in Melbourne, Ashley Smith and Carla Blackwood could not make it to Brisbane so Nick Mooney (Horn) and Karol Kowalik (Cello) stepped in. Needless to say their level of musicianship was exemplary, as was the whole ensemble.
Artistic Director Tania Fraser was an eloquent spokesperson for the group, as was Raineri and viola player James Wannan, whose quip about keeping Dan Murphy's afloat during lockdown earned him laughs.
SXS played to their largest audience ever with the Concert Hall almost crammed to capacity. That their return was welcomed was shown by the audience's thunderous applause.
Peter Pinne
Photographer: Darren Thomas