Spamalot
By Eric Idle and John Du Prez. Gosford Musical Society (NSW). Laycock Street Theatre, Gosford. Director: Darryl Davis. July 29 – August 13
Though Spamalot won the 2005 Tony Award for Best Musical on Broadway, it's not so much a musical, more a series of songs and comedy sketches "lovingly ripped", as the logo says, from the 1975 movie Monty Python and the Holy Grail, itself a string of Pythonesque variations on a medieval theme.
What the deliberately slight and silly show requires — and what this Gosford cast delivers in spades — is buckets of energy, enjoyment and fast-paced theatrical action. Python was always pretty much a boys' club, and here, under long-time director Darryl Davis, the mainly male cast have infectious fun, supported by an attractive, often underdressed lineup of chorus girls and dancers. Inhibitions have clearly been left at the stage door.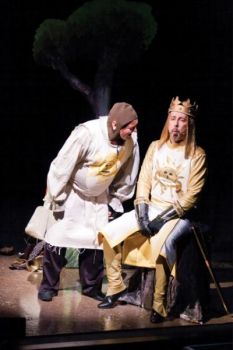 Davis also leads a splendid technical team. There are smart, fast-change settings by Greg James; an avalanche of dazzling costumes brilliantly designed and made by Lesli Normet and Judith Ponchard; sophisticated lighting by Damian Rice; and the backstage personnel are right on the ball, too. As usual at Gosford, the fine orchestra (this time under Musical Director Josh Hochkins) is, alas, kept out of sight.
Playing silly characters is not so simple and the actors who score best keep mugging at bay. Christopher Hamilton as a sweetly idiotic King Arthur gives an object lesson in easy mastery of the tricky material. His lament I'm All Alone, sung with the close assistance of ignored servant Patsy (Chris King), is touching and funny.
Chris Gracia, Adam Young and Neil Kelleher have terrific fun with the Wooing of Prince Herbert sketch. Sally Loughnan lets rip vocally as the under-used leading lady: her furious Whatever Happened To My Part? song is a highlight.
Frank Hatherley
To keep up with the latest news and reviews at Stage Whispers, click here to like us on Facebook, or follow us on Twitter.