Spamalot
Based on the movie Monty Python and the Holy Grail. Book and lyrics by Eric Idle. Music by John Du Prez and Eric Idle. Brisbane Arts Theatre. Directed by Alex Lanham. November 23 – January 18, 2019.
Most of us have heard of King Arthur and the Knights of the Round Table based at Camelot. Arthur supposedly existed around the fifth century but most historians now believe it all to be a myth. The Monty Python film took this to preposterous lengths and this musical has gone even further. Thus, we have King Arthur and his knights of the round table – when he can convince some to join him – searching for the holy grail. Add singing and dance to the farcical situations, and the diverse people Arthur meets, and the end product is Spamalot. Wow!
Director Alex Lanham has met the challenge of Arts Theatre's small stage for a musical very successfully indeed, with free flowing the movement and dance. There was also the innovative use of a screen to tell some of the story. The costumes were suitably weird, to match both the storyline and the characters. With a cast of nine with speaking roles, four in the male ensemble and six females as Laker Girls, he has created a very good production.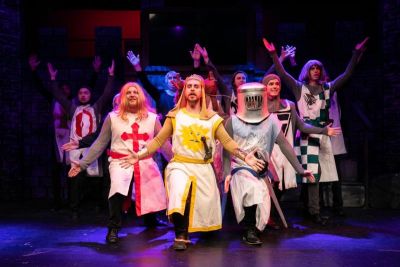 Outstanding, in a uniformly good strong cast, were Alexander Thanasoulis as Arthur and Laura Fois as the Lady of the Lake. Both gave clear convincing performances throughout. The remaining cast members – Lachlan Morris, Damien Campagnolo, Oliver Catton, Ben Kasper, Liam Hartley, Christopher Batkin and Matthew Nesbitt – deserve mention for their inter-play and being able to wear such costumes.
For such a complicated production, all those who assisted in any way, including with costumes, singing and dance – must be congratulated. Well done to the Arts Theatre for presenting such a ratbag musical, which was a joy to watch, listen to and enjoy. Very highly recommended. Do see it!
William Davies